Today we'll be taking a look at Netgear Wireless Cable Voice Gateway (CG3000-1STAUS) which has 4x 10/100/1000 ports, a USB port, 2x voice ports and a cable coax port. It's one of the few routers that I've teared down which has gigabit network ports and the USB functionality isn't available according to the sticker placed on top of it so a future firmware may enable it, I guess they had to rush these units out. I've changed the teardown format a little bit so it flows a bit better.
Six torque screws later and we're in.
There a few things that stand out from the usual routers I've seen, first is the pretty big heatsink on the main chip, we also have a RF can for the cable input and a temperature sensor cable going to the back of the main chip, must get pretty hot. PCB date code is 17th week of 2011.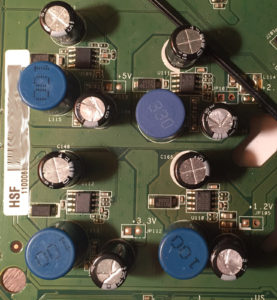 There are 4 DC-DC converters (3x MP2807DN, 1x 71981A/LAB8103) and the inductors look strange, they are in a plastic type package and for the DC-DCs they do have the silkscreen showing the different voltages so that's nice. Capacitors are a mix of Nichicon and Rubycon for the DC-DCs but they have Lelon ones for the voice lines.