A while ago I built a simple constant current dummy load for testing my SMPS however the maximum load was about 1 amp and 2 amps with a fan on it and I always had to use a multimeter to measure the current. I'm looking at having a load of up to 4 amps or more, adding an ATtiny to control a 4 digit LED display to show the current, use a proper potentiometer and use a bigger heatsink.
Originally I was planning to have it all powered by input voltage like before however at low voltages the STP22NF03L N mosfet that I had lying around didn't switch on enough with the MCP6242 op-amp so after thinking about how I could do it – use 2x coin cell batteries, 9V battery, etc, I went with a Lipo battery. An upside of using a battery is that this allows us to use any input voltage between 0V to 30V to test our load with.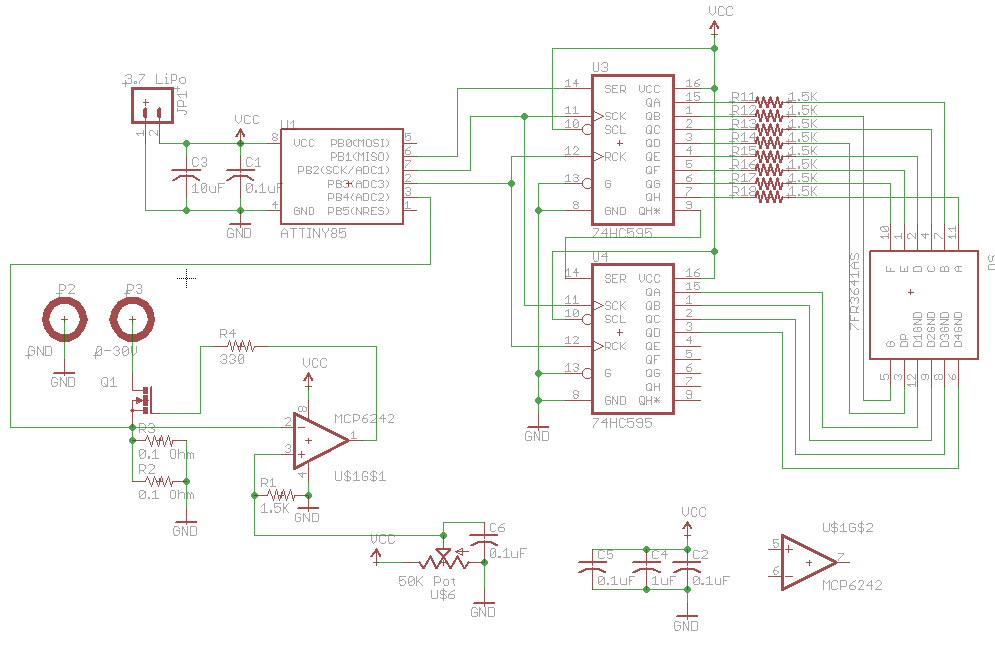 Before I had 1 ohm resistors which were almost getting as hot as the mosfet so I've gone down to 0.1 ohm 3W resistors – I added the option of another resistor in parallel if need be. I used a 1.5K resistor on the op-amp on the non-inverting side of the op-amp for a bit more fine tuning of the pot.