Previously I made a small solar power garden light with an RGB LED controlled by an ATtiny13 and I have been thinking about how I could create a different project from it. The ability to control these RGB LEDs via wireless on demand seemed like an interesting idea – potentially you could program a sequence and have them execute it to give you a small light show if you had enough of them.
(sneak peak)
After browsing for an AVR, I found the ATtiny841 that has 3 timers which is exactly what I need to control each LED properly with PWM (another solution would be to use a WS2812 LED).

Each ATtiny841 was $1.3 so you can't really go wrong, I didn't know these MCUs were available so it's a good idea to regularly browse supplier's websites for new products. For the server side, I'm thinking an ATmega with 16×2 LCD and keypad to enter the sequence.
Client side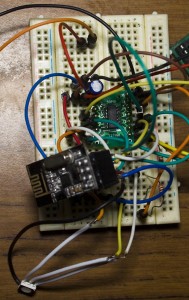 The ATtiny841 gives us the ability of selectable output pins for the timers which you'll need to configure to have any output from the timer at all plus you also need to enable the timer output enable of the pin too.