We have the original Xbox unit which is used infrequently and all of a sudden it wouldn't power on, unplugged everything and measured no voltage on the outputs.
Naturally the problem would have to be on the power supply board, at quick inspection found black marks around a diode and resistor.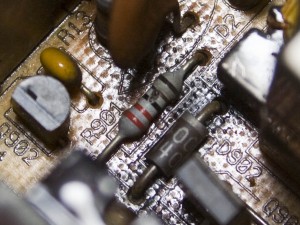 If you look more closely at the resistor you can see a slight mark which could mean it's been damaged, I measured it in circuit and I was reading into the megaohms. I removed it from the circuit and it read open circuit, it looks to be 22 ohms.