Ever since I built my 4 bay 3.5″ NAS using the Raspberry Pi which was placed inside a Netgear NV NAS enclosure, I've been wanting to make a single bay NAS with a 2.5″ drive to use as a small file server or for backups. I've decided that I'll use it for remote backups in which I'll use rsync over SSH from my linux server to backup some of my data at night.
(sneak peak)
Due to my use case, I'll need to have it operating 24×7 and don't really have a need for an LCD or even power button, so it will be a minimalistic design. The Raspberry Pi was purchased from Element14 / Newark and this time it has mounting holes which will make things more easier for us. In terms for the power supply, I'm able to re-use an existing 5V 2A supply but otherwise I could have used my SMPS.
The SATA to USB adapter that I bought from Ebay was larger than I wanted so it's time to make it smaller.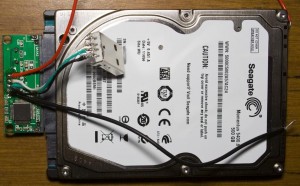 I went ahead, opened it up, shortened the USB cables, separated the power cable out (as I don't want the Pi itself to power it), re-soldered the wires to a USB connector I had – it's now more compact. As a side effect, this SATA adapter has quite a bright blue LED which illuminates through the acrylic case which gives it some colour. Just using a spare 500GB hard drive whilst testing.