As part of the Mini Temp Logger design I need to look at a better way of keeping time other than using the watchdog timer as it's fairly inaccurate. I stumbled across the Microchip MCP7940M Real-time clock controllable by I2C, you can set alarms, a clock output (likely what I might use for my project), ability to trim the oscillator in 1PPM increments (129PPM -/+ range), low power consumption at 1.2uA and the price was $1.
Choosing capacitors
This RTC recommends the use of 6-9 pF 32.768KHz crystals, the most common/cheap ones are 12.5pF and it still does work with them but it won't be as accurate as the 6-9pF ones (and for me it sometimes stopped working), it took me a while to realise this as I was reading the preliminary datasheet for a while.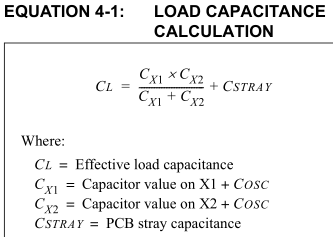 The first thing we need to do is calculate the capacitors we'll require for our crystal, there is a standard formula which we follow for this, Cstray is usually between 2-5pF so lets assume ours will be half way at 3.5pF. I went with a low cost (at the time) EuroQuartz MH32768L crystal that has a CL of 6pF. The best match for our formula is 6pF for CX1 and CX2: (6 pF * 6 pF)/(6 pF + 6 pF) + 3.5 pF = 6.5pF which is close to our CL of 6 but you may have to vary the capacitors depending on your testing.
Interfacing
I built a simple PCB for the RTC (doesn't look the best as I built it about 6 months ago when I didn't use to sand the PCB) but there isn't much to it. We just need a crystal with 2 caps, a cap for the chip and then just I2C resistor pull ups. Let's interface with it, I'll start off using the Arduino and we'll move to an ATmega328 later on.