I hope you've gotten a feel of how we can access the Gameboy Cartridge in Part 1 and now it's time for the real part that I was looking forward to: Reading the RAM of the cartridge. Before we start I recommend you read Part 1: Reading the ROM.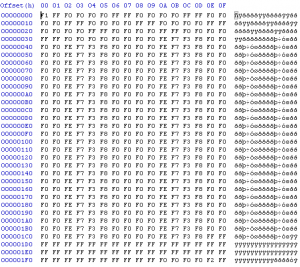 In this tutorial I'll still be using my F1RACE game that uses MBC2 which is actually simpler compared to others because some of the other MBC's use RAM banking; which is just like ROM banking as you should already know if you read Part 1. I'll also cover another MBC to show how RAM banking works.

When we want to access the SRAM for reading or writing we firstly have to enable the SRAM, this is done by setting RD/WR and sending a specific command to the MBC. The command is called "initialise MBC" which is found on the VBG website and is given to us as 0x0A, this translates to data pins D1 & D3 should be on (00001010). The other thing to take note of is that RD needs to be set to 1 (off) and WR to be set to 0 (on) when we give the 0x0A command.