So the Arduino software has been easy to use but I'm thinking about using V-USB in one of my projects. V-USB is an implementation of the USB protocol that can run on an Atmel AVR microcontroller but in order to integrate it into one of my projects it's time to move away from the Arduino software.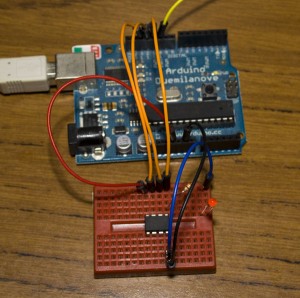 I'll show you how we can create our own version of the ATtiny45/85 Blink without the Arduino software. We will use setup/timer functions from the internal Arduino wiring.c file because it's easier to use something that works.
First thing we'll do is download WinAVR from http://winavr.sourceforge.net. After installation, the default directory is C:\WinAVR-20100110.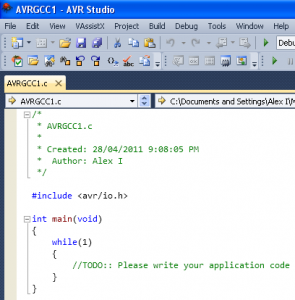 But before we start with WinAVR we need a starting template, so what I did was download AVR Studio 5 Beta and start a new blank project. The reason I'm using Programmers Notepad instead of AVR Studio is that it's a very simple interface and from my testing actually compresses things better when compiling.