Today I'll be showing how we can integrate the Standalone Temperature Logger (SATL) into the V-USB Test program we have. It's taken me a little while to find my way around V-USB and its kinks.
Schematic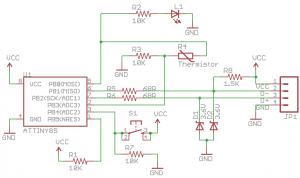 The schematic has been updated to include the USB port. Another change is that when the LED turns on it also turns on the thermistor, before we used to do this with the dataPin.
Cleaning up the V-USB code
The first thing I've done is copy over our setup.c file from the SATL WinAVR to our project and then move everything related to V-USB setup or procedures (except the sending of keys) to our setup.c file which now leaves us with just two functions in main.c (evaluateADC and main).
Next I would like to cut down on the main's USB setup code, lets make a new function called startUSB() and place all the code below in it.