I was given the chance by the kind folks at Element14 to select a part from their website and do a review on it. I chose the Olimexino STM32 board as it's the next step up from the Arduino and can act similar to an Arduino. The Olimexino STM32 uses an ARM microprocessor running at 72MHz which is 4.5 times faster than the Arduino's 16MHz. You can find the Olimexino range of products at http://au.element14.com/olimex/.
It has the following key features packed into the one board, to see more of the features click here.
- Allows 9V to 30V input
- microSD card capability
- Ability to use and recharge a Li-Ion battery
- ARM 32-bit processor with 128K flash, 20K SRAM, 12-bit ADC, 16-bit PWM, 39 I/O pins, SPI, i2C, CAN, RTC, etc
Note: The ARM micro doesn't feature an EEPROM like AVR micros do.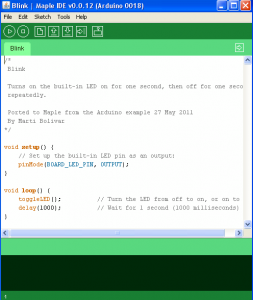 As the Olimexino STM32 is based on Maple (or seems to be) we can use the Maple's IDE (which is a re-brand of the Arduino's IDE) to start writing and uploading code with ease, most Arduino functions have been ported to the IDE. We have the blinking LED sketch shown below.