Following from Part 4 we tested the ATtiny85 with external SRAM via SPI which worked well however we don't have enough pins to use SPI and V-USB on the ATtiny85. In this part, we will be upgrading to the ATtiny84.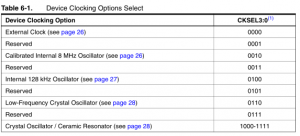 The ATtiny84 has most features that the ATtiny85 does however I found that it didn't have the PLL clock to generate the 16.5MHz needed for V-USB when using the internal oscillator. We do have enough pins to use a 16MHz crystal which also works with V-USB.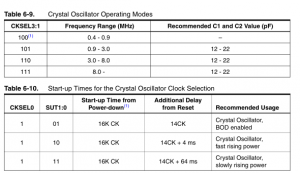 We use CKSEL as 111 for crystals higher than 8MHz. The factory default for Start-up Times is 14CK + 64ms for slowly rising power, so we'll use that also for the crystal too.