I've recently started to replay some Gameboy games on my Gameboy Colour, I picked up a Gameboy Advance and eventually got around to doing the AGS101 mod to it which makes it look really nice. Eventually I got to the point where I would have to keep recharging the AA batteries I was using as they weren't lasting as long and the weight of the 2x AA 2000mAh rechargeable batteries made the GBA feel a bit heavy.
I saw a post where someone fitted a 2000mAh LiPo battery to their GBA, they had do to some modifications to the GBA battery compartment to fit it all. By using a LiPo battery instead of the AA's, it would save us about 20 grams, while not a lot, ever gram does count and you can tell the difference plus since the LiPo has a higher voltage, it has a higher energy density, so it should give us longer play time than the AA's. So I decided I would do the same mod and I might make a little voltage regulator and charging board to go along with it.
We can't just directly hook up the LiPo battery to the GBA, you have to step it down to around 3V. You could go higher but I chose not to as who knows what that might affect seeing as the the GBA has a DC-DC boost converter on board stepping it up to 3.3V/5V.
A DC-DC buck converter could do the job to reduce it to 3V and so could an LDO but from my experiences, both of these options seemed to have quite a high quiescent current (usually around 1mA), we would waste power even when the GBA was powered off. One way around this would be to keep the device in shutdown but then how would you detect if the GBA was powered on?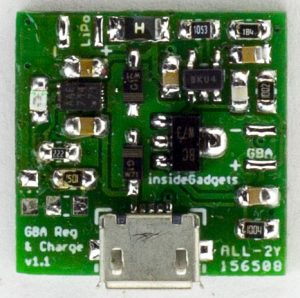 GBA Reg & Charge v1.1
(sneak peak)