Previously we made a SNES transmitter board which allows you to converter your SNES controller to a wireless controller and allow you to use any of the existing receivers we have available.
Today we'll look at making an NES drop in board for the generic NES controllers you can buy off Ebay and also revisit the GBA TX cart's CPLD code after I made a basic 32MB GBA cart so we can remove the 50 MHz oscillator.

It seemed like a good starting point for the drop-in boards as the existing board shape is pretty simple where as the SNES board shape is a bit more complex.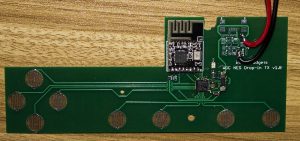 (sneak peak, new boards will be ordered)
We can pretty much re-use all the components we used on the SNES TX mod board for this NES drop in board. Now that we'll have control of the buttons ourselves we don't have any chip that we need to switch on with a P mosfet and thus our power consumption when sleeping and power on response when the start button is pressed will be improved.
The only thing I hadn't done before was making button pads on the PCB before. I looked around for existing Eagle libraries that had them but only found one which was pretty small. There are lots of different designs out there, some like the SNES have carbon coated pads on the PCB and others just have the bare PCB exposed.