From our previous part, we looked at how to add Multi-game support to our cart. In this part, we're going to switch out the 128KB SRAM for 32KB FRAM so that we no longer need a coin cell battery to keep our saves and also look at adding 2MB MBC1 ROM support; at the moment we are limited to 512KB MBC1 ROM support.
We'll be using the Cypress 32KB FM18W08 as our FRAM chip which only costs $1-2 each from AliExpress. It has the usual CE, WE, OE lines and address/data lines like an SRAM chip does so it's almost a drop in replacement.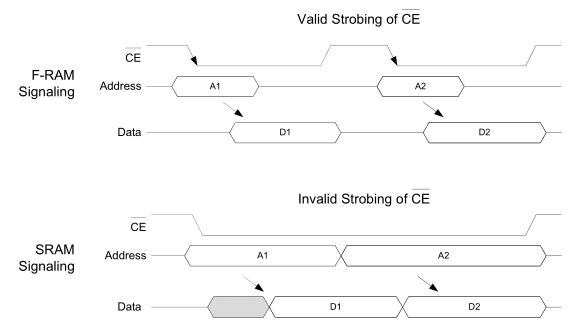 The one thing that datasheet mentioned compared to SRAM is that the CE line needs to be strobed when you change the address, mainly due to the fact that the memory access needs a pre-charge which is performed when CE goes high for a certain amount of time.
When you read data from the memory cells to the internal buffer, the data from the memory cells is lost until you write it back, this is what the pre-charge is for (odd name for it), it writes the data from internal buffer to back to the memory cells so it's a good idea to have a pull-up on the CE line (which I do already have). More information on F-RAM pre-charging can be found here.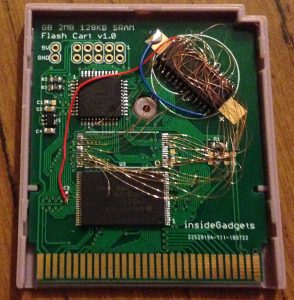 With that out of the way, I built up another Gameboy cart, glued down the FRAM chip and wired it up.