Previously I built a GBA LiPo Voltage Regulator & Charger using a op-amp with an NPN transistor to regulate the voltage plus used an off the shelf LiPo charging chip, this is so we could trigger the GBA's red light when the LiPo was at 3.7V (changed to 3.6V now). The efficiency wasn't the best (around 62%) and I was lead down this path because I couldn't find any DC-DC converters with low quiescent current but it turns out that I didn't search hard enough.
The plan is to use an adjustable DC-DC converter to step down the voltage to around 2.5-3V which should result in higher than 90% efficiency and then use a MCU or similar to toggle a resistor connected to the resistor divider when the LiPo is running low.
The first 2 candidates for checking the quiescent current is the OnSemi NCP1529 and the Richtek RT8010, both of which switch higher than 1.5MHz, have a 1 amp output and feature a quiescent current of less than 70uA.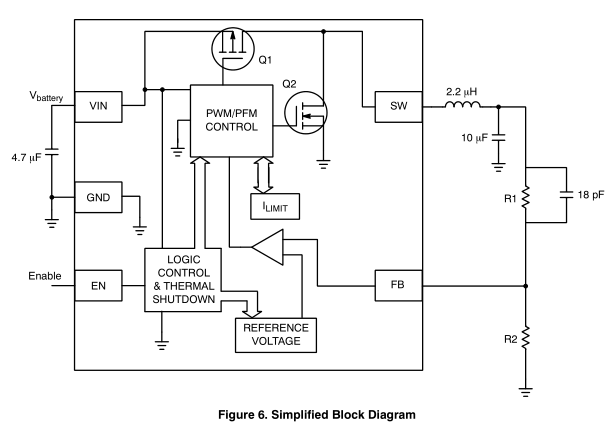 The NCP1529 looked like it might be the best option so I started with that one first. The components to add was a 2.2uH inductor with a 10uF cap, a 4.7uF cap for the input and the the R1/R2 resistor (went with 470K/120K) with a feed forward cap (I haven't needed to use a feed forward cap before).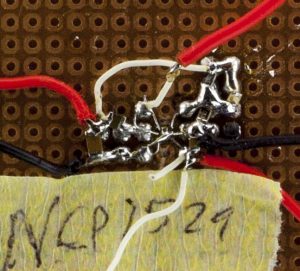 (most of the pictures don't look too nice, this is because I've switch out the inductors, resistors, caps a couple of times!)
Built it all up, powered it up and unfortunately I saw about a 2mA quiescent current. I changed R2 to 220K to adjust the voltage to 1.18V and the current seemed to drop, so perhaps we need larger resistors. I changed R1 to 850K but I was back to 2mA so looks like it's more the voltage drop that did it. I adjusted the input voltage but it only dropped to 60uA when the input voltage was above 4.8V so that won't work, it also dropped to 100-200uA when around 3.3V.
I started playing around with it, ended up touching VREF and that's when the current dropped, weird. So I took out the feed forward capacitor and placed it on VREF to GND and it seemed to work but when I checked it under the scope, it looked bad and under load it was still pretty bad. I added the feed forward capacitor back in and it was back up to 2mA again.