Previously we made a Gamecube receiver which plugged into the Gamecube port which allows you to play Gamecube games, GameBoy games via the Game Boy Player or play Wii Virtual Console or Gamecube games via the Gameboy wirelessly. A few users requested a Super Nintendo receiver which should also work with the GBA Consolizer project, so let's take a look.


A quick look at the SNES pin out shows that there are 3 lines – clock, latch and data so this should be relatively simple.

Out with the logic analyser we go, we can see the latch, 16 clocks (clock polarity is low) and the data is high by default. When a key is pressed the data bit for that clock cycle goes low.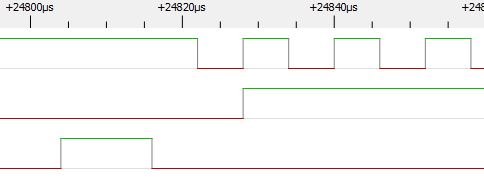 For example if the B button is held down it appears on the first clock cycle, we can see that the data line is low until the clock goes high again.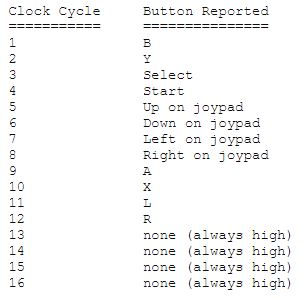 We also have a listing of which clock cycle corresponds to which button is pressed.