As you can see the blog hasn't been updated in quite a bit of time and most of the previous posts have been about the GameBoy. We've had a bit of free time on our hands so have been busy working on projects and mods (most of which can be listed in our shop) but since starting up our Discord server, it's easier to post real time updates there than writing up entries on the blog which can take a few hours at a minimum. A few ideas have come from the users there and users can talk about their own projects too.
So let's have a look at the projects and mods we've worked on!
AdvanceVGA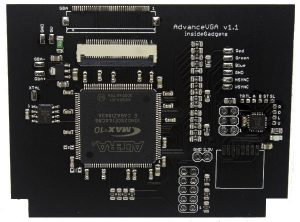 After playing around with the GBA LCD, I wanted to make a GBA handheld with a 7″ LCD screen (that accepts TTL) with our own LCD voltage control board but before that it made sense to try outputting it to a VGA monitor first. It was the first time I ever needed to use an FPGA and went with the Intel 10M02 because it ran off a single 3.3V rail, had a PLL, was a QFP package and didn't need an external EEPROM. It did take a while to complete, it started off with using an SRAM but using a circular buffer the 10M02 had just enough internal RAM to make it work, timing was pretty tight. We added a wireless GBC receiver so it can also be played with our wireless GBC TX carts.
LiPo Battery Gauge for the GBA
Having a 2 colour LED for the GBA battery is alright but why not have more so you can see the exact state. This was the idea with the LiPo Battery Gauge project by using a clear GBA shell we could fit in quite a bit of LEDs in the front. Due to the wiring requirements and 2 board construction, it never made it as a product but you can make your own as we've got everything on GitHub. We do have a battery gauge available for the DMG. Another user has made their own for the GBA SP.
AdvanceLCD Prototype
As the AdvanceVGA project had been successful it was time to work on the AdvanceLCD 7″ project. Since the LCD I choose could accept a TTL signal (which has V/Hsync) it's very similar to VGA so after a little bit, it was up and working. I was using the controller board that came with the LCD to provide the power so the next step is to make that board myself.
ClockxControl
One of our discord users was looking into buying a clock control module for the GBA, it was quite large and a little bit expensive. We made our own version, one that could allow for any clock speed you wanted (for an additional cost) and it supports the DMG, GBC and GBA.