So I've been able to read/write to a Gameboy cartridge so the next step is emulating one using an Arduino. I wasn't be able to emulate the whole cartridge using my current methods but I did emulate the cartridge sending the Gameboy the Nintendo Logo. I'll show you how we can analyse the data coming from the Gameboy and the various steps I went through to get it working.
Let's jump to the Youtube video straight away to see the results.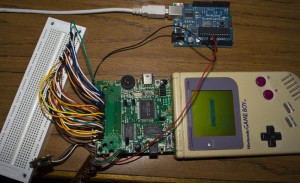 The first thing required is a Gameboy that we can solder some wires to; the Gameboy that I took the cartridge header from was perfect for this and then just place those wires into a breadboard.