An idea came to me after looking at some Gameboy projects which swapped out the Gameboy PCB for their own custom board – What if we could use any Gameboy (GB, GBC, GBP, GBA, GBA SP) as a game controller, stream that over a wireless connection and use a V-USB to act as a HID keyboard or joystick. It's now available for purchase at www.wirelessgbc.com.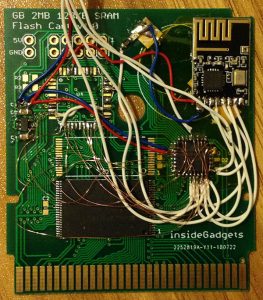 It's do-able I thought, I've already played around with all parts that would make this project, I just have to put it all together (and have some code I can re-use): GBDK to make the rom, either a CPLD or MCU to read the input/data, nRF24L01 or similar for the wireless and V-USB on an Atmel MCU for the joystick input. I was considering using Bluetooth as well but might as well just stick with what I know for the moment.
V-USB Joystick Interface
At first I thought about using V-USB just to output keystrokes as I had done this before with the SATVL however I quickly found that outputting and repeating a keystroke like the right cursor key, doesn't replicate well into an emulator. Basically it's just like the key is being pressed and released quickly, so if you wanted to move your player right, it would move them right for a little bit, then stop, move right more, etc. I tried playing around with the code but it was a no go.
I went looking to see how other users implemented their own controllers and came across the USB NES Pad adapter that uses the HID joystick interface.