From our previous part, the PCBs arrived and I started testing games. There were a few that didn't work and was able to get some to work by adding some MBC1 support via a few little detection hacks. This part, we'll look at how to add Multi-game support plus use GBDK to create our game selection screen loader.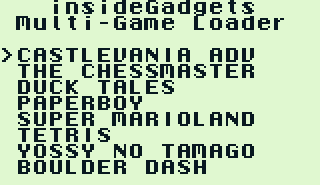 (sneak peak of loader screen)
Multi-game support is pretty useful if you have a lot of little games that are 32-256KB but don't want to have a cart just for each of them. They might also be games that don't need to save because it can be very easy to load the wrong game and it could potentially overwrite the SRAM.
The way multi-game support works is once you select a game, it send either the bank or the memory location of the game to the custom MBC via an address that wouldn't likely be written to, the ROM bank is changed, the Gameboy is soft reset and then the game loads.
if (inputAddress <= 4'

d7

&&

(

!

inputRD

||

!

inputWR

)

)

begin

if

(

inputAddress

<=

4

'

d3

)

begin

// 0x0000-3FFF, Bank 0 always

highAddress

<=

romBankMulti

<<

1

;

highAddress

<=

(

(

romBank

+

romBankMulti

)

<<

1

)

;
Just to test the concept, we can append one 32KB game to another 32KB game, flash it to the cart and then add a rom bank adjustment variable for multi-carts. If we change the variable to be 2, it will select bank 2 of the flash chip when the Gameboy asks for bank 0. When it asks for bank 1, we simply add the romBankMulti variable to the rom bank the Gameboy asked for; we are always adjusting the rom bank to be 2 banks higher than what it asks for in this case.
Now we just need to make that rom bank adjustment variable configurable so what's the best address for us to send the bank command to our CPLD? We also need to consider that users may not use the multi-game loader so it shouldn't conflict with normal cart operation.