Previously we add some configuration options for the nRF module and did more testing on the Wireless Gameboy Controller. Today we're going to look at how we can have 2 of the carts communicate to each other so it's possible to play a 2 player game such as Pong.
(sneak peak)
The first thing we need to figure out is how we will get ATmega to output data to the Gameboy because at the moment we're currently using the ATmega to read what the Gameboy puts on the address/data lines. If we tried to read from anything at the moment, the flash chip would be the device outputting data.
What if we cut the A15 line going into the flash chip's CE line and change it to A14? This means that anything from 0x0000 to 0x3FFF will set the CE line active but then anything from 0x4000 to 0x7FFF will set it not active. This means that nothing will be outputting data if the Gameboy requests it, so if the ATmega can respond quickly enough, it could output data and the Gameboy would pick it up. But by doing this we are limiting ourselves to 16KB ROM size.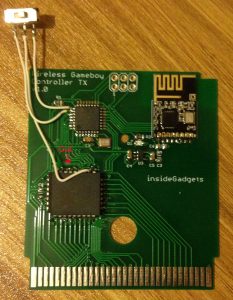 One problem is that the flash chip I chose uses the 0x5555 flash instructions which means we do need A15 to go to CE when flashing the chip. Not too much of an issue, I just wired up a DPDT switch for that purpose.
Let's try to read data to see what it might look like with a logic analyser. We'll write some data first and then try to read data.