I have a couple of nRF24 devices around the house like the doorbell, front door camera, the single receiver for both and I might look to expand that list in the future but re-programming the receiver when you would like it to handle a new device or perform an additional action can take a while plus the time testing that everything works.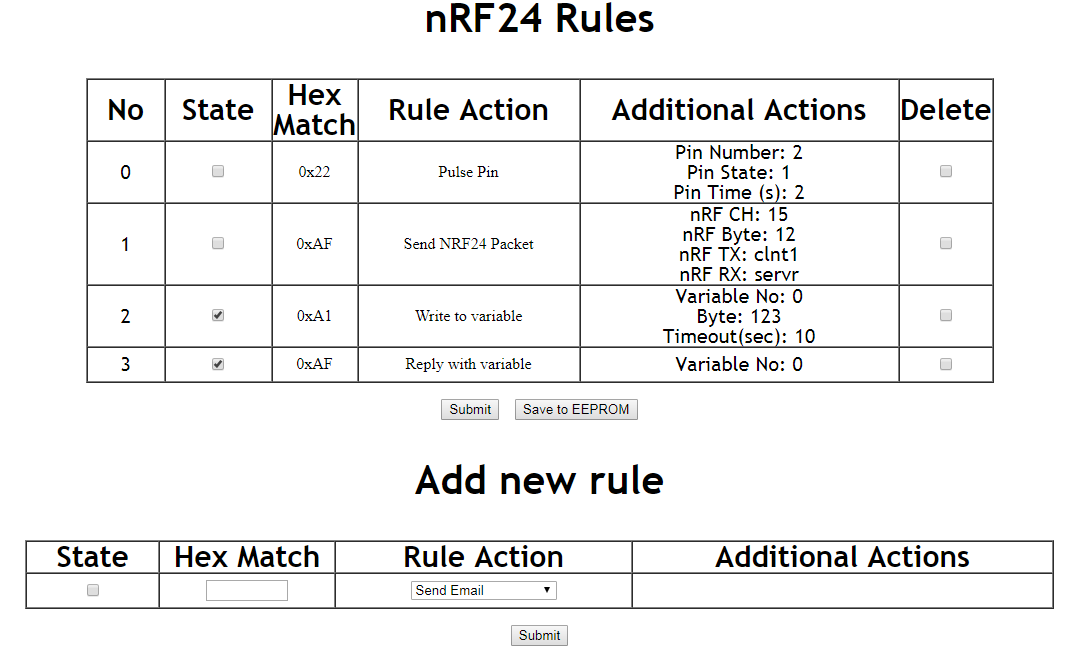 So I thought, why not make an ESP8266 for a web interface where we can store rules and have it connected to the nRF24 to receive incoming packets, it's similar to IFTTT but all local. The rules would all be based on a single byte packet it would receive, we could have the rules active or not, with rule actions such as sending an email, pulsing a pin for a certain amount of time, sending an nRF packet, writing data to a common variable (with a timeout when it's reset) and reply back with that variable. We can have a button to save everything to the EEPROM (emulated on flash) and read it all back if the ESP8266 is power cycled.
Some quick use cases:
– Doorbell is pressed, you could either have it pulse the buzzer locally for a second or two and you could also have a remote buzzer anywhere else so it sends a packet to have that buzzer go off too.
– I'm thinking about adding a small sensor to the mailbox, so if it's moved, it would send a packet, we could have it write data to a variable. Add a battery powered sensor anywhere around the house with either a buzzer or LED, to check in every few seconds and read that variable back so if it changes to a 1, the buzzer or LED goes off for a little while.