A device for backing up GB, GBC and GBA cart's game ROMs, save games to your PC and restoring saves from your PC.
Features
• Backup games ROM to your PC
• Backup save games to your PC
• Restore save games from your PC
• Supports Gameboy, Gameboy Colour, Gameboy Advance cartridges
• Supports SRAM/Flash/EEPROM for Gameboy Advance cartridges
• GUI or console interfacing programs
Other Features
• Backup GB Camera (active images) to BMP with a one click program called GB Camera Saver
• GB Sachen ROM mapper reading support
• GBA "24-in-1" Flash cart ROM mapper reading support (may not work for all flash carts)
Gameboy Flash Carts/Chips supported
• Catskull / DIY 32K (AM29F010B, SST39SF010A, AT49F040), Audio/WR pins – 32KByte
• Catskull / BV5 – 2MByte
• ES29LV160 (0883_DRV PCB) – 1MByte
• AM29LV160DB / 29LV160CTTC – 2MByte
• AM29F016B – 2MByte
(Check if your cart matches by checking board pictures here)
Gameboy Advance Flash Carts supported
• MSP55LV128 – 16MByte
• MSP55LV128M / 29GL128EHMC / 29LV128DTMC
• 256M29EWH – 32MByte
(Check if your cart matches by checking board pictures here)
Read/Write Speeds (using Windows GUI)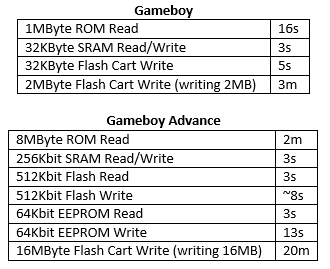 Specifications
Size: 54mm (L) x 57mm (W) x 9mm (H)
Voltage: switchable between 3.3V (for GBA) and 5V (for GB/C)
Weight: 18 grams
Requirements
v1.2 Board – Micro USB cable
v1.1 Board – Mini USB cable
OS Compatibility
Windows XP or higher
Linux (console version)
How To Use
GBxCart RW Manual Rev23
Buy
Comes assembled, no soldering required. Each unit is assembled in house and is tested with a Gameboy and Gameboy Advance game (reading ROM, saving RAM and writing RAM).
Stock status: In stock
Submit your review
Average rating:
8 reviews
Apr 15, 2018
A lifesaver
Best GBA save backup tool for the price. I got tired of buying flashcards to export my Pokemon Emerald save, glad I found this instead! I would recommend using a PS3 controller charging adapter to connect the GBX cart with your computer, because I tried a couple of other cheap USBs that did not work with the device.
Apr 8, 2018
Great device at its price!
I bought this in February and it arrived about a week later here in the United States. The device requires a USB A-Male to Micro B Cable that was not included, however the one I bought off of Amazon worked just fine. I plugged the cable about halfway into the device because it still reads the data fine and it's difficult to remove if I plug it all the way in. It dumped my game saves and ROMs perfectly! Its price and functionality easily competes with the other devices on the market. I would recommend this device if you are unwilling to spend $50-$70 on the various other devices for about the same functionality.
Mar 15, 2018
Really nice!
Just got my GBxCart RW here in France - really good product. Works as expected.Thanks for that product!
Mar 2, 2018
Best GBC backup device on market
Tested and reads/writes perfectly with GB/GBC/GBA games. Not gonna find a better device on market at this price point.
Feb 15, 2018
Simply Brilliant!
GBxCart RW arrived safe and well in less than 8 business days to the UK. Very reasonably-priced product and postage & packaging is inexpensive.Amazingly the battery-backed saves for all my old Gameboy Carts from 1993-1994 were still intact and now I've got them backed up for good. It was nice to find these reminders of my youth!Thanks again Alex, for your wonderful product, great software and clear instructions.
Feb 14, 2018
Perfect
Bought GBxCart RW from Italy. Arrived in 3 weeks, everything perfect. Works like a charm!
Jan 20, 2018
Great product!
I have had the product delivered to Austria. Everything worked really well! Great product!
Jan 18, 2018
I received the GBxCart RW (v1.1) in 8 or 9 business days(Ohio, USA). I must say, I'm blown away by the ease of use and quality of the product. The board is is really nice and the software is very nice and easy to use. I was able to backup my save games easily and backup the ROMs. Very much recommend.