A Keyboard Video Mouse (KVM) that allows you to switch the keyboard, video and mouse between 2 computers using 2 buttons.
The 2 USB inputs don't just have to be a keyboard and mouse; they can be any USB device that you like (up to USB 1.1, USB hard drives not supported). You can expand the number of computers you can control by 2 more by plugging in the Expansion board; you can plug in multiple Expansion boards.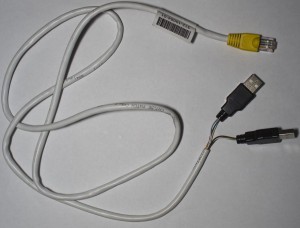 The RJ45 network port shown is where we connect to our custom 2 port USB cable to; you will be required to provide your own network cables – the advantage is that they can be any length you like and we save cost since we don't need a USB hub chip.
Specifications
PCB Board: 100mm x 49mm
Input voltage: 5V (powered by the "PC1 USB" port when connected to a PC)
Current consumption: 0.4mA (no load)
Maximum USB current allowed: 250mA
Weight: 60 grams
---



Download
The download file includes:
– Source code and compiled main.hex file
– Parts list and instructions on use (View the PDF)
– Eagle Schematic / PCB Guide
– Pictures of finished product + optional acrylic case
Mainboard
v1.0 (29 Nov 2014)
– Initial Release
Expansion
v1.0 (8 Jan 2015)
– Initial Release
---

Buy the Kit
(Discontinued)
This kit requires assembly and soldering, parts are 0.65mm pitch SMD/through-hole – this kit is not recommended for beginners for that reason. To reduce shipping costs the kit is sent in 2 parcels via the Airmail letter service for $7 and the usual delivery time is 7 – 12 working days (however it sometimes can take 20 working days depending on your location); we ship via Australia Post.
Expandable KVM Mainboard v1.0 – $22 [Discontinued as of 5 Jan 2016]
Includes everything you need to build the KVM except for 2 ends of a CAT5 network cable. A multimeter will be required to test for continuity. We have an custom black acrylic case available as an optional add-on – gluing the case together will be required and please note the case is made with a CNC machine, so some of it's edges may not be perfect.
Expandable KVM Mainboard v1.0 PCB only – $4
This is for the bare PCB itself, no components are included; $3 for shipping.