The Standalone Voltage Logger has been merged with the Standalone Temperature Logger to give the Standalone Temperature/Voltage Logger available in kit form.
A standalone voltage logger in a small compact form factor with minimal parts using the ATtiny85 and powered by a 3V coin cell. Based on the Standalone Temperature Logger. Extract the data logged by connecting to your PC using a USB cable.  The standalone voltage logger uses V-USB – http://www.obdev.at/vusb/.
Features
– Low power consumption, at least 1 year battery life
– Store up to 255 voltage readings
– 11 logging delay times available (1min, 5mins, 10mins, 15mins, 30mins, 1hr, 2hrs, 4hrs, 8hrs, 12hrs, 24hrs)
– Easily transfer the logged data to your PC via USB
Specifications
PCB Board: 35mm x 28mm
Voltage: 2.7V to 5.5V
Current used when sleeping: 5uA (When logging, jumps to 0.3mA for ~30ms approximately every 4 seconds)
Accuracy of timer: within 10% -/+
Operating temperature: -40C to 70C
---



Download
v1.1 (8 November 2011) – Download
– Updated to include capacitor, 2 over-voltage protection diodes replaced for a DO-35 type and replaced 39K/1.5K resistors with 390K/15K
– Added PCB Etching
– Fixed bug when configuring delay time. If button was held down before any delay time was set, nothing would happen
v1.0 (5 November 2011) – Download
– Initial Release
---



Sample Data
Y axis is the voltage and X axis is each interval.
Measuring solar panel – 1 minute intervals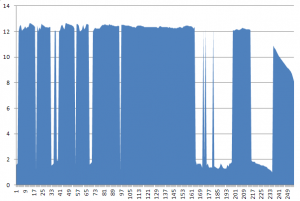 ---



Programming the ATtiny85



To program the ATtiny85 and fuse bits we use AVRDUDE
Change the fuse bits so the ATtiny85 uses 16MHz PLL and divide clock by 8
avrdude -p ATtiny85 -c usbtiny -U lfuse:w:0x61:m -U hfuse:w:0xdf:m -U efuse:w:0xff:m2.7V Brown-out Detection is optional (-U hfuse:w:0xdd:m) and is only recommended for CR2032 batteries that are new or near new condition. When batteries drop to ~2.95V there may be issues when powering up the ATtiny85.
Upload the main.hex file
avrdude -p ATtiny85 -c usbtiny -U flash:w:main.hex
---



How to use



Changing logging time intervals

Hold the button down for 2 seconds, the LED will stay on for 2 seconds to confirm you are changing the logging time.
Configure the logging time interval by pressing the button the amount of times shown below.
1 button press = 1 minute
2 button presses = 5 minutes
3 button presses = 10 minutes
4 button presses = 15 minutes
5 button presses = 30 minutes
6 button presses = 1 hour
7 button presses = 2 hours
8 button presses = 4 hours
9 button presses = 8 hours
10 button presses = 12 hours
11 button presses = 24 hours
Hold the button down for 1 second to confirm your logging time interval, the LED will blink three times to confirm.
(If the LED stays on for 2 seconds too many button presses were made, please repeat step 2)
Start voltage logging
Press the button 3 times in 2 seconds to activate the voltage logging. The LED will blink three times to confirm. The LED will blink very quickly every time it logs the voltage.
Exit voltage logging

Press the button once and the LED will blink 2 times.
Transfer the data to the PC
Plug the USB cable into the Standalone Voltage Logger
Open Notepad
Press the button once. The LED will stay on until the data transfer is complete.
Unplug the USB cable
Test the USB communication
Program the ATtiny85
Follow "Transfer the data to the PC" steps
The number "0.0" should be printed 255 times
---



Build your own
Parts Required
– ATtiny85 20MHz DIP8 (1) – ATTINY85-20PU – [U1] – N Channel Mosfet 1.5V[Threshold Vgs Typ] SOT23 (1) – BSS138 – [Q1] – P Channel Mosfet -1.7V[Threshold Vgs Typ] SOT23 (1) – BSS84 – [Q2] – 68R Resistor 1/8W (2) – [R5, R6] – 1.5K Resistor 1/8W (1) – [R8] – 10K Resistor 1/8W (3) – [R1, R2, R9] – 15K Resistor 1/8W (1) – [R3] – 100K Resistor 1/8W (1) – [R7] – 390K Resistor 1/8W (1) – [R4] – 0.1uF Capacitor (1) – [C1] – Zener Diode 3.6V 1/2W DO-35 (2) – 1N5227B – [D1, D2] – Schottky Diode 400mV[VF Max] DO-35 (1) – BAT42 – [D3] – Diode 680mV VF @ 1mA DO-35 (2) – FDH300A – [D4, D5] – (has not been tested)
– 3mm Red LED (1) – MCL514SRD – [L1] – 4.3mm Tactile switch (1) – MJTP1230 – [S1] – 8 pin IC socket (1)
– 3V CR2032 coin cell (1)
– Coin cell battery holder (1)
– Male headers (2)
– USB Type B Receptacle (1) – USB-B-S-RA – [USB]
Schematic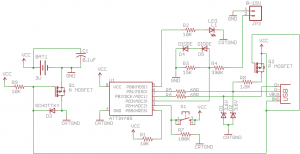 PCB Guide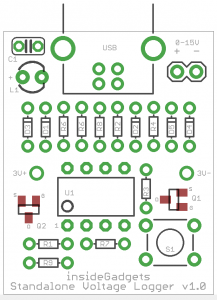 PCB Ready for etching

This work is licensed under a Creative Commons Attribution-NonCommercial 3.0 Unported License.