A simple solar charger for 12V batteries to keep them topped up and based on the LM317. View the post explaining the circuit here.
Specifications
PCB board: 17.35mm x 11.2mm
Input Voltage: 16V to 20V
Input current rating: Up to 80mA
Output voltage (no load): 13.65-14.1V (ideally 13.7V)
Output voltage (2mA load): 13.35-13.85V
Output voltage (10mA load): 13.25-13.75V
Output voltage (50mA load): 13-13.45V
---



Download
v1.0 (23 June 2012) – Download
– Initial Release
---



Build your own
Parts Required
LM317 TO-92 (1) – LM317LZ – [Q1] 240 Ohm Resistor 1/4W 1% (1) – [R1] 2.43K Resistor 1/4W 1% (1) – [R2] Schottky Diode DO-35 (1) – BAT42 – [D1] Female headers (2)
Schematic
PCB Guide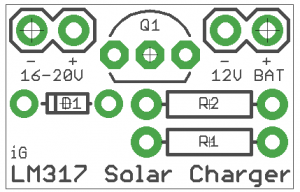 PCB Ready for etching
.

This work is licensed under a Creative Commons Attribution-NonCommercial 3.0 Unported License.