Previously I was looking at making a Dual Output Linear Power Supply, the prototype was working but while designing the PCB it would end up being large, a bit heavy with the heat sinks and I don't think I would really need a linear power supply, it was a nice idea.
So it's back to the drawing board as to what I really need, I do still have the SPPS which works but maybe it's time for an upgrade and now that I know a bit more about DC-DC converters we can stick in the Richtek DC-DC chip instead of using an Ebay DC-DC module. We might as well switch out the 8 digit LED display for an 0.96″ 128X64 OLED SSD1306 display which I've seen a lot of projects move to.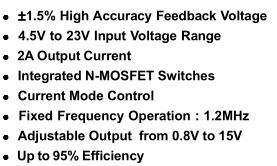 The DC-DC converter I'm looking at using is the RT8292B which runs at 1.2MHz versus the 400KHz of the RT8293A which I was using previously, it looks to be almost identical except that it will allow us to use a smaller inductor.

Like we've done before, we will use a 10K resistor for R1 and 10K digital potentiometer for R2 to control the output of the DC-DC.