From our previous part, we added the SRAM and tested the battery backup was working correctly. In this part, I was hoping to look into the FRAM but instead when the PCBs arrived, I started testing games, found a few that didn't work and was able to get some to work by adding some MBC1 support via a few little detection hacks.
I was laying out the PCB, was almost done, then I looked at an actual cart and realised there was a hole in the board, this screw hole would go straight through the ROM. I didn't want to re-layout the board having already spent hours on it but happened to notice that some clone carts had the hole at the top. After moving the CPLD a little bit, it worked out fine.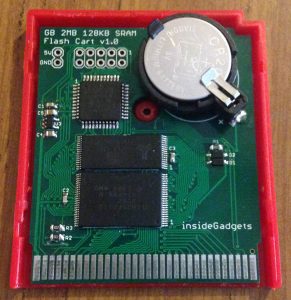 The prototype HASL PCBs arrived a little while later, they sort of fit the cart but I'll need to move the screw hole down just a tad. At the time, I didn't have any CR2025 SMD tabbed batteries so I just put in a through-hole coin cell holder. You might also notice that the board is quite thick; I didn't measure the thickness and left it as 1.6mm when it's really 0.8mm. Another little issue is that R1/R2 resistors are too close to the bottom of the board, so I'll move them up. I brought out the clock and audio in lines to the CPLD just in case I ever wanted to play around with those.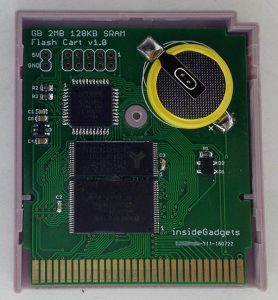 Little problems aside, the PCB worked well, loaded up a couple games and played them without any issues so I made the little changes to the PCB and had it done with ENIG, gold fingers with a 45 degree bevel and ordered 50 of them.
Current consumption
I wanted to see how much current the cart was taking compared to other carts so I measured the current of the whole GBA – running Pokemon Silver start screen it was reading 139/141mA while regular carts were 83mA. It's quite a bit actually but most of it is due to the CPLD (even unprogrammed ones draw 30mA!).