Previously we made a Super Nintendo receiver for the Wireless Gameboy Controller but it would nice to add L & R support so that some games on the SNES could also be playable and it would also allow GBA games to be played which used the L & R buttons so that's what we'll do, make a GBA TX cart.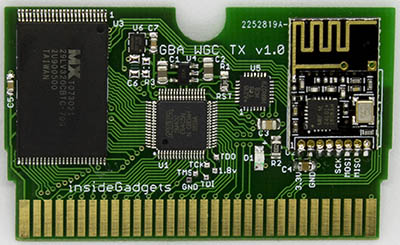 (sneak peak)
One of the problems is the GBA carts size, it's half the size of the Gameboy cart so we don't have a lot of room to work with and we need to fit a CPLD, flash chip, AVR MCU and the nRF24L01+. After a bit of browsing around trying to find the smallest CPLD & MCU, I came back to the Altera 5M80Z which I was looking at for a flash cart but didn't go ahead with it due to the 0.4mm pin pitch but it's basically the only choice.
For the AVR MCU, it doesn't need a whole lot of I/O or anything special, so I settled with the lowest cost one, the ATtiny48. It runs at 8MHz max so it isn't that fast and doesn't have an option for an external crystal. I suspect that even if it could run at 16/20MHz it may not be fast enough for detecting data from the GBA so what I decided to do instead was have the CPLD communicate to the ATtiny48 directly; once data was ready it could potentially just set a pin high and then read out the data whenever it wants.
We didn't need a CPLD with the Gameboy TX cart but we'll need one for the GBA due to the way the GBA uses all 24 pins to set the address then latches the lower 16 bits of the address by setting CE low and it uses the lower 16 pins to read/write 16 bits of data. There is a way to increment the lower 16 bits by pulsing the RD pin which is also used. In some ways it's easier than having to make an MBC like on flash carts.