With all of the recent GBC/GBA LCD upgrades available, it made me interested to learn more about LCDs and the signals to make them work, a subject which I hadn't explored before thinking it might be a bit complex. Let's take a look at the 40 pin GBA LCD and how we can change certain signals using a CPLD.
(Sneak peak)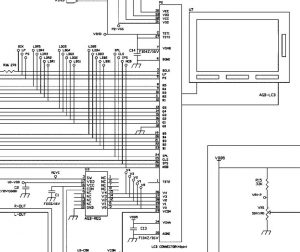 Firstly, we'll take a look at the GBA schematic which shows the LCD screen and all the connections going to it. It looks to have a fair few voltages required by the 40 pin LCD supplied by the AGB-REG chip while the 32 pin LCD on more recent GBA don't require these voltages and thus don't require the regulator chip.
We have signals DCLK, LP, PS, R1-R5, G0-G5, B1-B5, SPL, CLS, SPS and MOD but what do they do? For that we're going to have to get the logic analyser out! Before we do, just by the naming, we can tell that we've got Red (R1-R5), Green (G0-G5) and Blue (B1-B5) so it's 16 bits but since G0 is grounded we have 15 bits of colour.

Here's how it all looks zoomed out a bit. We can see that the SPS signal has a duty cycle of 59.73Hz which is the screen refresh rate on the GBA.