Previously we made the GBA TX Cart for the Wireless Gameboy Controller so now it's time to keep adding more receivers to the project. We have the NES, WiiMote (which should also support the NES/SNES Classic Mini), the N64 plus a Multi-RX adapter which allows you to switch out systems for a lower overall cost.
NES receiver
As I didn't have an NES to actually test with, I previously had purchased a Mayflash NES/SNES to WiiMote adapter so I should be able to use that to make sure it works correctly.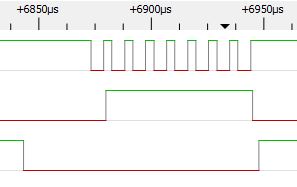 As the NES just uses 8 clocks instead of the SNES 16 clocks that's pretty much all that needed to change. A quick verification and test and it was all ready to go, I had even named the PCB "NES/SNES RX" before hand.
WiiMote receiver

Since I had the Mayflash WiiMote adapter as mentioned, I started looking at it with the logic analyser whilst reviewing different websites to verify their data against what I was seeing with the logic analyser; in some parts they were correct and in other parts they were slightly off.
I won't bore you with the details but I did get pretty far into it with an ATtiny, up to the point where everything was sent/received in the clear but then it came to the encryption stage. I thought perhaps if I don't reply to those encryption requests, etc, it may bypass the need but it didn't seem to be the case so that's when I decided it was time to look to see if someone had released some code for that.