A 4x AA battery monitor which will blink an LED every 4 seconds if a battery is found flat (1.1V) and checks good batteries every 15 minutes. Suitable for rechargeable batteries.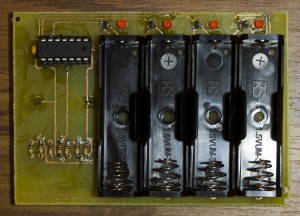 (version 1.0 pictured)
Features
– Low power consumption, at least 1 year battery life
– Monitor up to 4x AA batteries
Specifications
PCB Board: 956mm x 698mm
Voltage: 1.8V to 5.5V
Current used when sleeping: 4uA (When LED is on, jumps to 0.3mA for 500ms)
Operating temperature: -40C to 70C
---



Download
v1.1 (21 January 2012) – Download
– Added PCB
v1.0 (4 December 2011) – Download
– Initial Release
---



How to use



Insert up to 4x AA batteries at any time and after 4 seconds the batteries will be checked.
If the battery voltage was 1.1V or less, the LED will light every 4 seconds and be re-checked.
If the battery voltage was more than 1.1V, the battery will be re-checked in 15 minutes.
---



Build your own
Parts Required
– ATtiny24 or ATtiny24A 20MHz DIP16 (1) – ATTINY24-20PU/ATTINY24A-20PU – [U1] – N Channel Mosfet 2.1V[Threshold Vgs Typ] TO-92 (4) – BS170 – [Q1, Q2, Q3, Q4] – 10K Resistor 1/8W (2) – [R1, R2] – 100K Resistor 1/8W (6) – [R3, R4, R5, R6, R7, R8] – 3mm Red LED (4) – MCL514SRD – [L1, L2, L3, L4] – 14 pin IC socket (1)
– 3V CR2032 coin cell (1)
– AA battery holder (4) – 611-9576 – [BAT1, BAT2, BAT3, BAT4] – Coin cell battery holder (1)
Schematic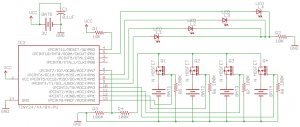 PCB Guide
PCB Ready for etching

This work is licensed under a Creative Commons Attribution-NonCommercial 3.0 Unported License.