Lets begin with Part 3 in which I'll hook up the ATtiny85, program the simple LED blinking test, take it away from the Arduino, run it on a 9V battery and also how we are actually using the thermistor to calculate the temperature.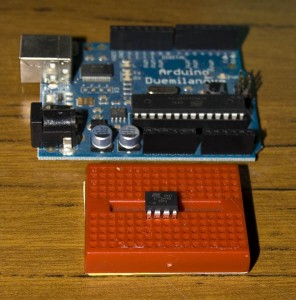 Firstly we'll visit the website I gave in the first part, which shows us how to hook up the ATtiny85 to the Arduino so the Arduino can program it. Here is a mirror of the site and download files in case it's down: HLT wiki Arduino A Ttiny 4585_files
We choose from the Arduino program to open up the ArduinoISP sketch which is below the "8. Strings" selection. Now just upload that to your Arduino.