It's been a while since I etched any boards but I got around to etching the Low Voltage Battery Monitor PCB yesterday.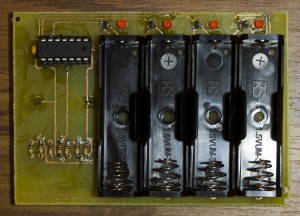 I did have a slight issue with the 3V battery holder, it was supposed to be mounted on the top but the battery holder that I was using in Eagle was smaller than the real thing so I just mounted it on the bottom. Version 1.1 fixes this issue. Other than that it works well and I can now say is the largest PCB I've made.
A quick test video is shown above.
Download Low_Voltage_Battery_Monitor_v1.1 or view the project page.