I thought I'd do another quick teardown, this time of a photo keyring we had lying around for a while.
Four screws later and we're in.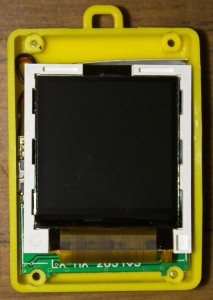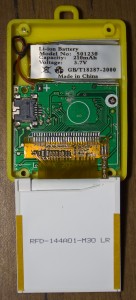 There's a 3.7V 210mAh Li-ion battery inside. The screen is a RFD-144A01-M30 LR and has an adjustable single LED backlight.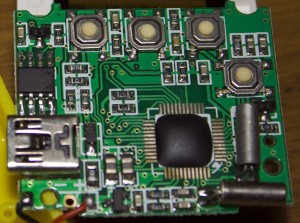 As this device is done for as cheap as possible (you can buy from the store for $19), they've gone for the chip under the blob. There are 2 crystals – I'm thinking one is a 32KHz for keeping time (because it does have a clock functionality) and the other must be for the USB and writing to the LCD. The 8 pin chip is a Winbond 25X80AVNG (PDF) which looks to be a 8Mbit flash memory where the pictures would be stored.
And that's all for the quick teardown. I was thinking that since it uses external memory we could re-purpose this by hooking up another MCU to it, update the images then make the MCU press the arrow buttons to scroll through your images.