About 1-2 weeks ago I bought a cheap power adapter with an output as a USB connector from Ebay which says it does 5V @ 1000mA. I would be drawing about 500mA – 700mA from it.
I've heard about bad stories about cheap power adapters (the "one hung low" kind) and straight away measured the voltage output and it did seem to be at 5V. I used the USB cable provided which I found to be terrible – it had a voltage drop of 2V – threw it out straight away.
For a few days the adapter seemed to work – then all of a sudden I heard a pop.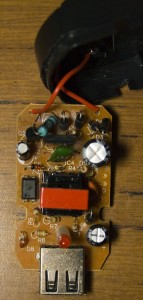 It looks like the resistor had fried and lost it's connection.
On closer inspection, a diode lost it's connection too.
I'm now using an Apple charger which is rated at 2A so I should be good now.