Today we'll be taking a look at the Cisco Small Business Pro SRP527W ADSL2+ Wireless Router which has 4 LAN ports and 2 phone ports for VOIP. We have taken a look at another Cisco router so I'm expecting to see a few of the same parts.

Four screws later and we're in.
First off, there are quite a few SMPS (SC4525A) around the board and a few large capacitors too, on the last Cisco router we saw none of these 25V 1500uF capacitors. The Wifi module is much smaller, has a proper u.FL connector and there is attention to detail to keep the Wifi antenna wire in place by having the small plastic holder on top of the LAN ports. There is a 8.192 crystal oscillator on board along with 2x 25MHz and a 64MHz crystal.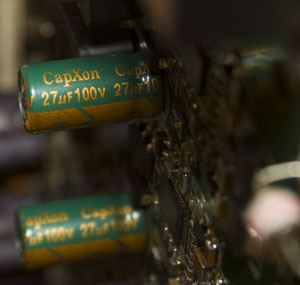 Unfortunately they used 2 CapXon capacitors on the middle of the board which I hear are one of the bad capacitors to use.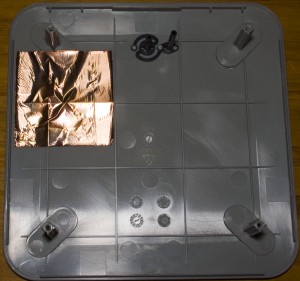 Interestingly they decided to put a thin layer of copper on the top of the case which sits right above the Wifi module.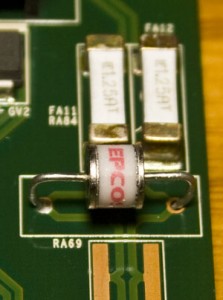 For the DSL line, it looks like they have 2 fuses and a pretty noticeable gas discharge tube for any voltage spikes.

Nearby the transformer for the DSL line, they have this configuration of components with a little bit of shielding that brought my attention to it, not quite sure what it's doing but interesting regardless.
Now for the chips…
Marvel 88F6281 Integrated Controller
Features a CPU up to 1.5GHz, DDR controller, PCI-E interface, Gigabit Ethernet, USB port, SATA controller, Crypo engine, MPEG interface, to name a few; this chip can do all sorts of things.
88F6281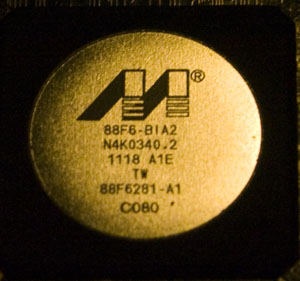 Samsung 64M x 8 Bits NAND Flash Memory
K9F1208U0C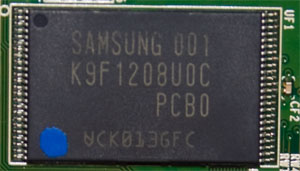 Marvel 6-Port Fast Ethernet Switch w/ QoS, 802.1Q
88E6061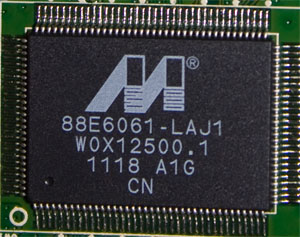 Samsung 1Gb DDR2 SDRAM
K4T1G164QF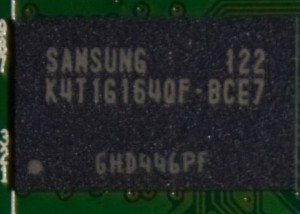 Broadcom ADSL Chip
This chip was under the small heatsink
BCM6333KFBG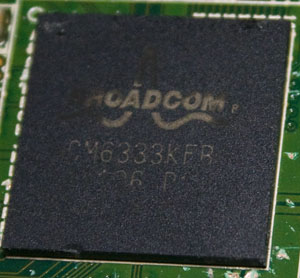 Winbond 256Mbit SDRAM
W9825G6JH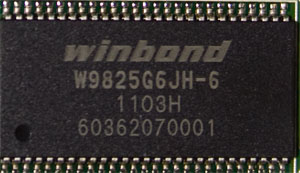 Silicon Labs Analog Telephone Interface
Provides 0 to -94.5V output which is why they have the 100V caps, they have 2 of these chips, one for each phone socket.
Si3215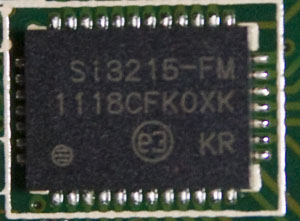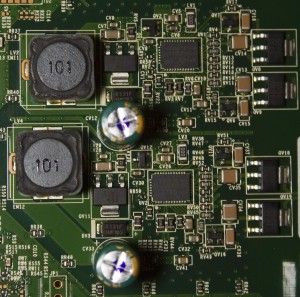 Atheros 802.11n Wifi Module
Under the shield we have the main chip, an ISSI part which is most likely memory and a small oscillator
NH028UF
Removing the shield reveals the chip.
AR9285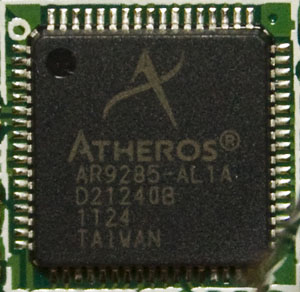 And that's all, looks like they didn't use any of the chips that they did for the previous Cisco router that I tore down.