I recently got into the quadcopter hobby and purchased a UDI U818A mini quadcopter from Ebay which is fun to fly and have been experimenting changing the battery packs and adding FPV. I've been thinking about going to a larger quadcopter but before I do, I'd like to plan around with making my own micro quadcopter and experimenting with the software.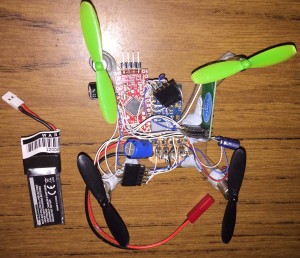 After purchasing 4 micro motors (Hubsan X4 H107), a set of propellers to suit, a MPU6050 3 axis accelerometer and gyro, I was ready to start building.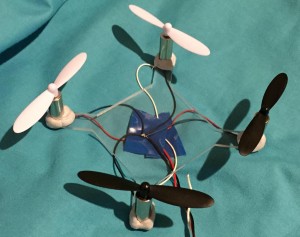 The first part was to build a frame, using my CNC I built one from acrylic just big enough to fit all 4 motors with propellers without touching each other, a bit of blu-tac later and they are semi-secured in place, good enough for testing. One big downside is that acrylic is heavy compared to most other materials.
Testing the 4 motors all at once at different voltages gave me the following current draw results – 1.7v @ 780ma, 2.5v @ 1.2A, 3v @ 1.5A, 3.5v @ 1.9A, 4v @ 2.2A but I expect that it could be double or triple that due to the wires I was using so each one might draw 1-1.5 amps each.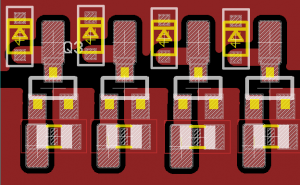 After testing different mosfets to use, I went with the IRLML6344 a 29 mOhm, 30Vds, 5A continuous mofset with a sckotty diode rated at 1 amp, a quick PCB design later and we've got our motor controller board. I did have some trouble testing the board, it seemed that I kept frying the mosfets in such a way that made them stay on even when the gate was low, it turns out that I forgot to connect ground to the PWM I was generating, oops. After ground was connected, it all work nicely and the mosfets didn't really get hot.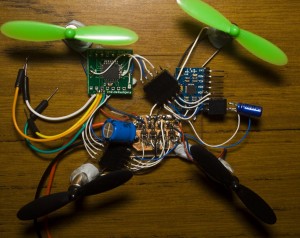 I hacked up one of my PCBs that had an ATmega footprint to act as the controller and started work on converting the MPU-6050 Arduino code to C code which took a while, I had to add some capacitors for power filtering otherwise when the motors started the MCU would reset. The MPU-6050 has a special DMP motion functionality which offloads the processing on the chip directly and gives you the results directly, if you don't use the DMP motion you need to do some sort of filtering otherwise the results can be all over the place. Here's some links to learn more about using the MPU-6050 and the library I used the DMP from.
Once the conversion of the MPU-6050 code was done I started playing around with controlling the motors based on the position of the MPU-6050 but it turns out that it's much harder than it seems, but it was great to see it lift up and fly for a bit. I was doing basic things like if it was tilting to one side, it would increase the PWM cycle for the side falling and decrease for the side rising, trying to take into account a decent amount of angle before it would take place. It would slowly rev up all the motors and then it would take off, here's where my code ended if you want to take a look: Quad_Test. As you can see in the video, I did get it to fly briefly but there was lots of oscillation and later when playing with my code it would move in one direction and slowly spin in circles.
So it was time to go back to the drawing board and I happened to find the MultiWii software which runs on Arduino and I had an Arduino Pro Mini laying around so popped everything on that board and gave it a try, I also added nRF capability so I can control it from a Gamecube controller. I was running the Arduino Pro Mini at 3.3V which means that the 16MHz clock it had by default needed to be divided by 2 which I did in the software and also lower the baud rate to 38400. It took a little while to get the controls working well as I had to interface to the MultiWii software and in the end it was flying but only for a few seconds, no where near good enough to control. Download Quad_TX-RX_v1.0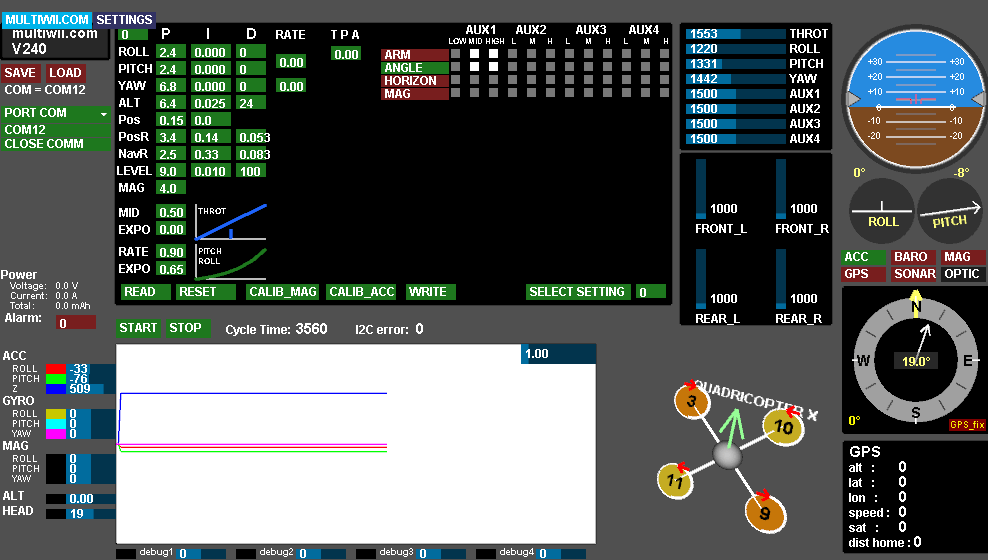 I didn't know it back then (about a month ago when I did this build) but by default MultiWii runs in acrobatic mode meaning that it's up to you to control the quadcopter, any adjustment you make the quadcopter will continue that action until you move it to another direction. You can set it to angle/horizontal mode which will auto level the quadcopter for you and you should calibrate the accelerometer by pressing the CALIB_ACCR button before doing so. Also the PIDs should be tuned or at the very least, you need to put the I and D gains to 0 so you can firstly focus on P (reduce it to say 1.5 to 2.5 to start with) to have it start flying.
So now it hovers (better than shown in the video but requires more tweaking), all in all it was a good experience to learn the amount of processing that goes into making a quadcopter fly and I'm happy with the MultiWii software enough that I can build a bigger quadcopter, I'm starting to receive my parts for a ZMR250 build as shown on the RCModelReviews channel.