Today we'll be looking at the Synology DS214se Dual Bay NAS (Network Attached Storage) which is similar to the single bay DS112J NAS except that this one has 2 hard drives to allow for RAID1/0, it has the standard Gigabit Ethernet and 2x USB 2.0 ports.
Two screws later and we're in.
Once inside, we can see there is a backplane PCB for the second hard drive, they are only using the right slot of a PCI-Express x1 connector.
As per the single bay, we've got lots of EMI pads (but missing the pads/pins) and some on the PCB edges too. There are 2 unpopulated connectors on the bottom left of the PCB, a 6 pin connector near the power input jack and they have an SMD buzzer on the PCB. PCB date code is 36th week of 2013.
Going from the power input jack, we have a diode for reverse polarity protection, a uPiSemi uP1504T DC-DC converter with 2x FDMS7694 N Mosfets and a fairly large 3.3uH inductor. There are 3x GMT A1526 & A1529 DC-DC converters (1MHz, 2.5-6V Vin) as well.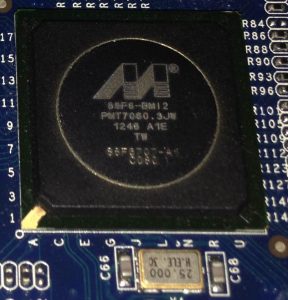 The main chip is a Marvel Armada 370 SoC (88F6-BM12) with an ARM v7 CPU that can run up to 1.2GHz, DDR3 memory interface, 2x Ethernet controllers, 2x PCI-Express 2.0, 2x SATA2 ports, 2x USB2 ports with PHYs to name a few features, running with a 25MHz crystal. There is a RTC crystal for the real time clock feature which is supported by this chip and a CR2032 battery for the RTC.
For the memory we have a Samsung 2Gbit DDR3L SDRAM (K4B2G1646E) and a Gigadevice 64Mbit SPI Flash (GD25Q64B).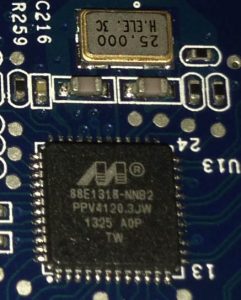 For the networking side, we have a Marvel Alaska 88E1318 Gigabit transceiver running with a 25MHz crystal.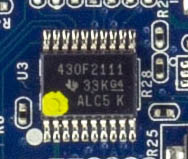 Also we have a Ti MSP430F2111 16-bit MCU which can run up to 16MHz with 128B RAM, 2KB Flash memory with 16 GPIO and a 16-bit timer.
And that's all.