Another quick one, today we'll be looking at the Netgear ProSafe GS108 8 Port Gigabit Switch which is an unmanaged 8 port gigabit switch and has a little Kensington lock on the back.
Two screws later and we're in.
There are a couple of logic chips hanging around which isn't too common on low port switches, a pretty decent heatsink on the main chip and a good amount of via stitching. PCB date code is 39th week, 2009.
We've got a few KY branded capacitors at the input, 2 inductors along with 2x Feeling Tech FP6101 DC-DC converters. For the logic chips we have an LVC14A hex schmitt-trigger inverter and 2x quad 2-input NAND gates which are going to the network port LEDs.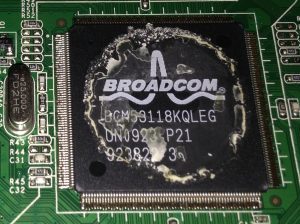 Under the heatsink we have a large chip, the Broadcom BCM53118 (no proper datasheet found) which has 8x 10/100/100 PHYs and one GMII/RGMII interface which could potentially be used for wireless, fibre, etc. The chip includes VLAN, QoS, DOS prevention, per port rate control to name a few. Running with a 25MHz crystal.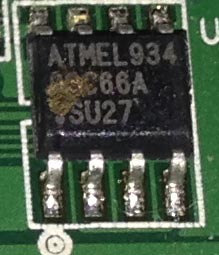 Also under the heatsink there was an Atmel AT93C46D 1Kbit Serial EEPROM.
And that's all.