Today we'll have a quick look at the Thomson DH1685P Digital Terrestrial Receiver which is a digital TV receiver that outputs to HDMI, composite, coaxial and has a USB input on the side.
A couple of clips later and we're in.
We have a single chip solution with a small heatsink, the RF side with shielding, a whole bunch of Acon 220uF capacitors all over the board and there are two 6 pin DC-DC converters (H11R). They have left some of the copper exposed on the bottom and tinned it for slightly better heat dissipation. PCB date code is 48th week of 2011.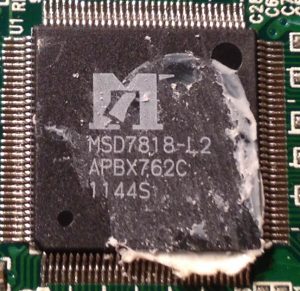 Under the heatsink we have an Mstar MSD7818 which looks to have a MIPS34K core running at 550MHz which supports MPEG-2/H.264, up to 8MHz bandwidth, all constellations/code rates with multi-languages and 1080p video output. Running with a 20MHz crystal. (Source: SHDT865DTT)
We have a Nanya NT5TU32M 512Mbit DDR2 SDRAM with a Spansion FL032 32Mbit flash memory.
And that's all.