Today we'll be briefly looking at an old Philips 29″ CRT TV (29SX8771/75R). We've had this TV for at least 10+ years and I've been told that it cost $2,000 back in the day. The image has degraded a bit so instead of throwing this out, we'll take it apart and harvest the parts.
Quite a lot of screws later and we're in; there was 4 speakers which I took out for parts.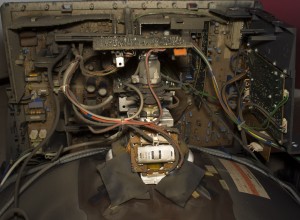 It's very dusty, you can see the main board and the CRT with electron gun. I discharged the CRT by hooking up the plug coming from the CRT (anode) to ground.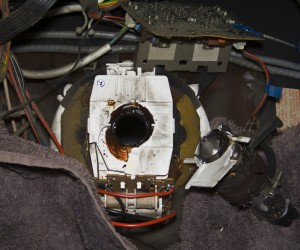 I was hitting the electron gun with a hammer to break it off from the CRT as it's all under a vacuum, luckily the glass didn't break from the electron gun.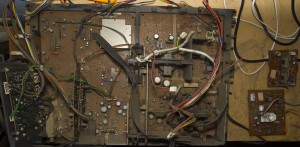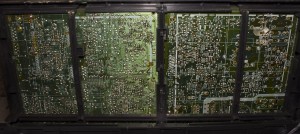 Here's the main board with the 2 other PCBs, one of which was mounted on the electron gun. On the main board you can see the TV tuner on the bottom left, two riser boards to the right of that and far on the right you have the CRT high voltage transformer with metal shields around it.
On one of the riser boards I found a Philips PCF84C81A Microcontroller which is an 8 bit, 1- 16MHz with 8K of ROM and 256byte of RAM and a teletext video processor SAA5231 chip plus a teletext video decoder SAA5243 chip.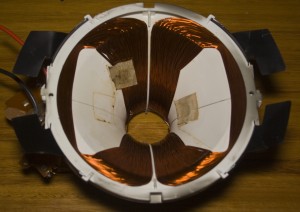 The electron gun was removed from inside this huge coil of wire (focusing coil) which controls where the electron ends up on the screen.
Here's the electron gun, we'll have a look into it a bit more. There were these rings around it which I broke one off, it's slighly magnetic so I believe it may be used for more focusing.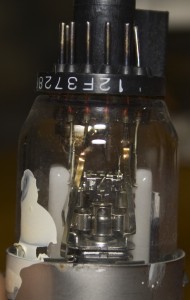 A few more close ups of the electron gun.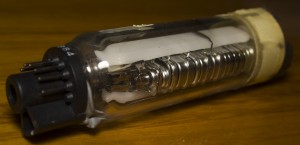 I removed the outside casings so we can see it all, from what I've read the small metal cans are used to accelerate the electrons. And that's all.