Today we'll be looking into something a bit different than the regular items we have on – the Slim Devices Squeezebox v3 Network Music Player which has a date code of 2006/12th week. The Squeezebox is a LAN/Wifi network music player which plays music from your computer and outputs it to RCA, S/PDIF or headphones.
It can also play internet radio and also doubles as an RSS news ticker. The screen is a VFD which looks very nice, maybe I can use it for a project.
Looks like we have an IR sensor at the front, on the back we have the Wifi board with two antennas and some chips. We've got a large 3300uF 16V capacitor though it's a Samxon branded one. There is another board underneath with all the processing power which we'll look afterwards.
Chung Nam 802.11b/g Wifi
It's a WLAN mini-PCI card with an on-board CX1117 regulator and Atmel 32K 24C32AN EEPROM.
WLANTPBG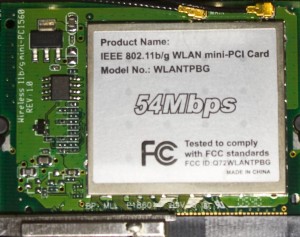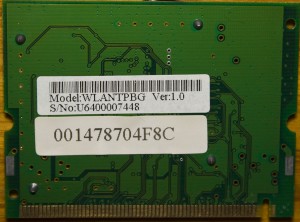 Power supply section
Looking at the right side of the board, we have a 63V cap for the VFD display and a 4 stage voltage doubler by looking at the SMD caps and diodes. Just left of the power supply section we have a Fairchild MM74HC123 Dual Mono Multivibrator.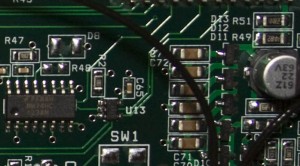 Audio processing section
We firstly have the TI PCM1748 24-Bit 96-kHz delta-sigma ADC on the right which does the audio processing, a ST TS486 dual power amplifier on the left and a TI 74HC4066 quad bilateral analog switch.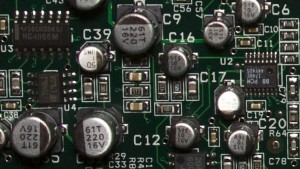 .
Processing board
We have the main processing board with 4 chips and 2 crystals – 25 and 10MHz.
UBICOM 8-way Multithreaded Wireless Network Processor
An 250 MIPS / 32-bit MASI CPU with 256 KB Program SRAM, 64KB Data SRAM with various interface support including 32bit 802.11a/g radio interface.
Micron 64Mbit  SDRAM
MT48LC4M16A2
AMD 16Mbit Flash
AM29LV160DB
Davicom 10/100 Mbit Ethernet PHY
DM9161.
.
Missing section of the main board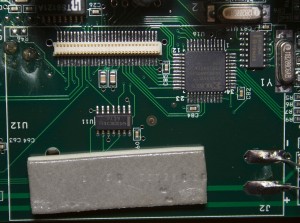 Underneath where the sub-boards we have a Xilinx XC9536XL CPLD with a system frequency capable of 178MHz and 34 usable IO pins. To the right, we have a On Semi 74HCU04 hex inverter which has 2 crystals 11.289 and 12.288MHz configured as oscillators which feed into the CPLD. There is a TI 63CNCXK chip which could be in the 74AC series but I'm able to find out what it is.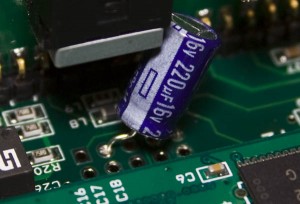 There is also a capacitor which looks like it's sort of bodged on to a spot for headers. Overall it's a pretty packed unit for what it was back in the day, lots of SMD caps and passives all around.