Today we'll be taking a look at the HP 1410 16 Port 10/100 Switch (J9662A), it's a 100Mbit 16 port switch so it's nothing special but it's suited more for the business environment due to it's metallic casing.
5 screws later and we're in.
The layout looks neat and there is a lot of via stitching, date code is 7th week of 2013. We've only got 1 electrolytic capacitor on the board (at the input) and they skipped the need for inductors at the input. We have 2x MP1482 SMPS with 1uH unshielded inductors and they are relatively large considering that the input is rated for 12V @ 300mA, so the maximum current that could be used say ~95% efficiency at 5V is ~700mA. Also there's 4x FPE H40520MN transformer modules  and 14 transistors driving the 8×4 front panel LEDs.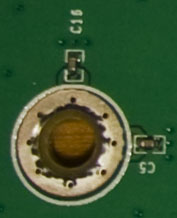 There seems to be 2x 0.1uF capacitors from ground to the screw which connects to the metallic case, this is the case for all of the 5 screw holes, is that a bit of an overkill?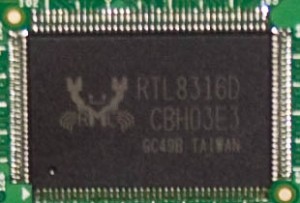 The chip is an Realtek RTL8316, fast ethernet controller with 4Mbit packet buffer, it's running from a 25MHz crystal however the chip only accepts a 50MHz clock input; so there would be an oscillator and frequency doubler circuit.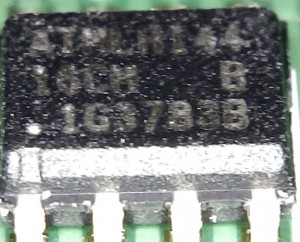 There's a small chip "ATMLH144" nearby but couldn't really find much on it, likely to be an EEPROM.
And that's all.