Today we'll be taking a look at the Feeltech 12MHz DDS Function Generator (FY2100S), it's function generator that can do square, sine and triangle waves with sweep plus it's a 1Hz to 60MHz frequency counter. It seems to work reasonably ok however there is a bit of jitter. Once you go over 8-9MHz – square waves don't look like they should and the sine / triangle waves look similar too.
Once I picked up the case, it was very light so there's probably not a lot going on inside.
A few notches later and we're in, this thing is pretty much empty with all the components being on the front panel – I might just remove the case and make a small back panel for it. We've got 5V input from USB, an MC34063 to invert the voltage to -6V (which gives us 12Vpp) and an AMS1117 3.3V LDO.
1. Altera MaxII CPLD
This CPLD has 192 macro cells, 80 I/Os and can operated at 304 MHz. We've got a 75MHz oscillator close by.
EPM240T100C5N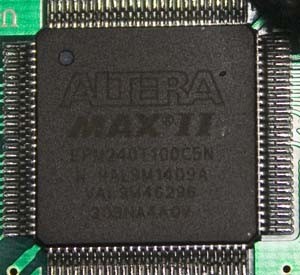 2. Unknown chip
No marking at all, looks like it would control the LCD.
3. Logic chip
A logic chip which is outputting its signal to the "TTL" output. I don't think it's a HC14 hex inverter schmitt trigger.
5A46 HC14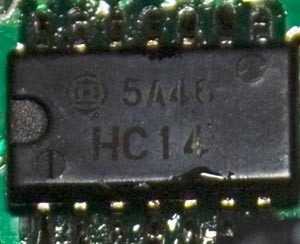 4. Ti Rail to Rail Opamp
130MHz bandwidth with 2.7V to 12.8V supply voltage support. Opamp output runs through to the "Out" connector after passing through the 20dB attenuator button.
LMH6643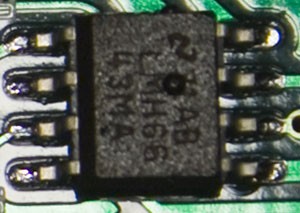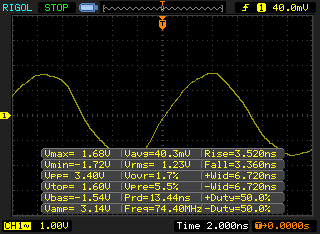 I tested the 75MHz oscillator and it looks like that is possibly where all the jitter is coming from.