Today we'll be taking a look at another old device the Netgear ProSafe 802.11g Wireless VPN Firewall (FVG318), it's a Wireless b/g access point with 1x 10/100 Mbps WAN and 8 ports 10/100 Mbps LAN switch with SPI firewall, the ability to block addresses, services, protocols, keywords, with 8 IPSec VPN tunnels, etc.
One screw later and we're in.
We've got our board with only a few major components so it's a bit more modern than the last Netgear device we took apart. There's a ribbon cable with a choke for the front panel lights and an external antenna, there's the possibility of adding another antenna too. There is a MPS MP1410 SMPS with 3 smaller regulators.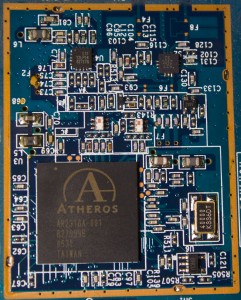 Under the metal can we have the main chip with a 40 MHz crystal with 2 transistors and 2 smaller chips.
1. Atheros AR2316A SOC
Running a MIPS 4000 processor with an 802.11 MAC/baseband processor, an 802.3 Ethernet MAC and MII interface, SDRAM controller, external memory interface, PCI bus interface, UART, etc.
No datasheet found for this one, but a related one here: RT1015W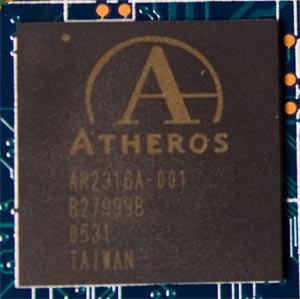 2. Mira SDRAM
Not much could be found on this one
P2V28S40BTP
3. Marvel 10/100 Ethernet PHY x 2
With 25MHz crystal
88E6060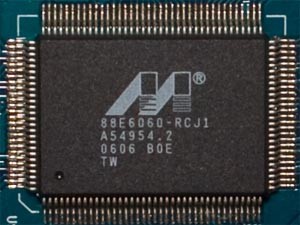 4. ST Micro 32Mbit Flash
25P32V6G
And that's all.