A quick one, today we'll be taking a look at D-Link 5-Port 10/100/1000 Unmanaged Switch (DGS-1005D) which is a simple 5 port gigabit switch.
Two screws later and we're in.
We have 5V/1A input to the switch, a single 470uF electrolic capacitor and two DC-DC converters, a small SOT23-6 (E9=A13) and a Richtek RT8282A (0.8V to 20V output adjustable), good to see this chip in use (as I use a similar one too), but a bit odd that they have a diode on the inductor as it isn't required with this chip (uses internal switching mosfets), are they looking to reduce the heat on the chip? PCB date code is 19th week, 2011.
The main chip is a RTL8367 (hard to read) and is covered by a small heatsink and oddly the 25MHz crystal has been placed very far away.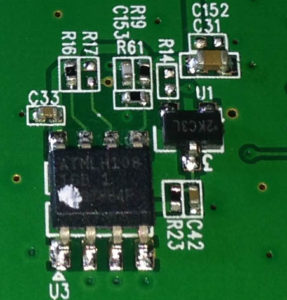 There's also an Atmel 8 pin chip, likely an EEPROM (ATMLH 10816B).
And that's all.