Today we'll be taking a look at D-Link 8 Port Gigabit EasySmart PoE Switch (DGS-1100-08P) which is an 8 port switch with 8x 10/100/1000 ports with POE rated for up to 64 watts.
2 screws later and we're in.
We've got our main chip with a decent heatsink plus 3 other chips. The PCB looks to have some isolation with transformers, optoisolaters between the 48V input / PoE side to everything else.  We have a few logic chips – LVC14A Inverter and 2x 74VHC164 Shift registers. There are 2 headers, one 4-pin one 6-pin near the main chip. On the bottom of the board, we can see they left off the solder mask for slightly better power dissipation on the PoE chips. PCB date code is 27th week of 2013.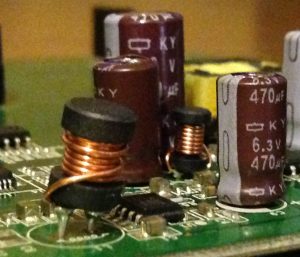 All the electrolytic caps seem to be branded KY. No SMD inductors were used which makes the smaller through hole inductors look a bit strange in how they were placed.
We have the 48V coming in, pass a switch rated for 3A then to the DPA422 DC-DC which provides an output through the transformer to lower the voltage for the M3Tek IT7802 DC-DC which outputs 5V. The 48V input also feeds directly through an choke to the PoE chips.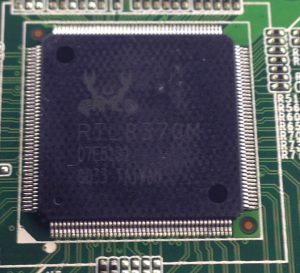 Under the heatsink we have the main chip, the Realtek RTL8370, a layer 2 managed switch controller with 8 gigabit ports, VLAN support, QoS, 64 entry ACL rules to name a few features. Runs with a 25MHz crystal.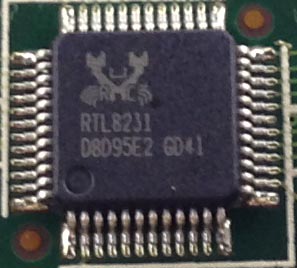 There's a Realtek RTL8231 which is a Serial management interface and Shift register LED display controller with 37 GPIOs, it's the chip that controls the LEDs for the ports.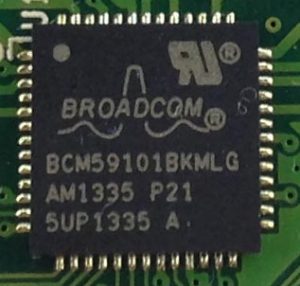 For the PoE controller side, we have 2x Broadcom BCM59101 which support 4 ports per controller at 15.4W per port with programmable current limits, real-time voltage/current/temperature readings per port, low BOM count and operates from 48V.
We have a Winbond 25Q16CV 16Mbit flash chip near the RTL8370 and an Atmel chip likely to be a serial EEPROM.
An that's all.