Welcome to Part 9, we have our schematic from Part 7 as below now it's just time to design and build our PCB. Not a whole lot of content for this post, mostly just pictures.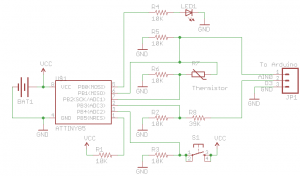 First thing I did was position the ATtiny85 near the center of the board and position the resistors as close to each other as possible. After that it was just a matter of finding where everything else fit. To make the board as small as possible I decided that I would mount the battery on the back of the board.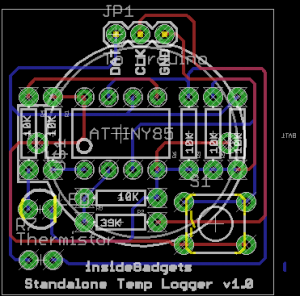 Below is a 3D rendering using Eagle3D of how my board will look.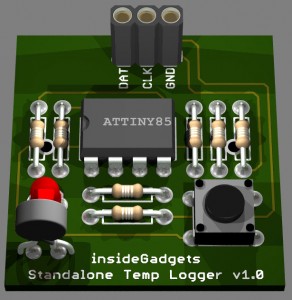 And now how it looks when actually produced.
I tested our my board and yep it all works fine, I have my first prototype! 🙂 In my next version I'll need to modify the battery holder's position because fitting it to the PCB was a bit difficult as it was very close to the resistors, this will mean a redesign of the board.
That concludes my Standalone Temperature Logger project and I hope you've learnt something during my journey to build this project. I'll be posting the new version of the PCB and all other useful information to the dedicated project page here: Standalone Temperature Logger
Below is a video showing me testing this project in the freezer and oven: