Today we'll be looking an Alcatel Lucent 9361 Home Cell V2 which is used as a small base station to provide your mobile phone with better reception.
A few notches later and we're in, no screws needed to be removed but it was a bit of a pain to get in.
When you pick up the board it's a bit heavy compared to other PCBs and straight up we can see 2 metal covers which is what you'd see in mobile phones. There is also a plastic cover as well which is a little strange. On the back of the board we can see that we have some metal blocks and an unpopulated section at the top left, maybe for a micro SD card slot?
At first I thought that the 5. and 6. metal blocks was more shielding but upon closer inspection 6. doesn't go all the way down to the board, so they must be using them as heatsinks.
We can also see the two antennas, one is mounted on the board which looks like an S, while the other is just on the side of the case with some foam holding it.
1. Passives
Not much here just a lot of passive components.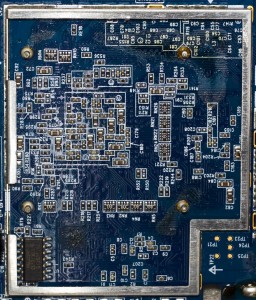 2. Analog Devices ADC/DAC + 3G Transceiver
The AD9963 has two 10/12bit ADC channels that can run at 100 MSPS and two 10/12bit DAC channels that can run at 170 MSPS with 5 channels of analog auxiliary input/output, AD9961_9963.
The ADF4602 is a Multiband 3G Femtocell Transceiver which is WCDMA/HSPA compatible, ADF4602.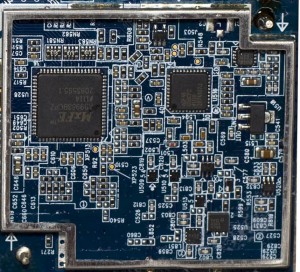 3. Crystal Oscillator
Under the plastic cover there is a crystal oscillator which I'm unsure of the actual frequency of the crystal and on the underside there are some resistors, the copper on the PCB layers under the crystal oscillator have been removed.
4. MXIC 16Mbit Flash
MX25L1606EZN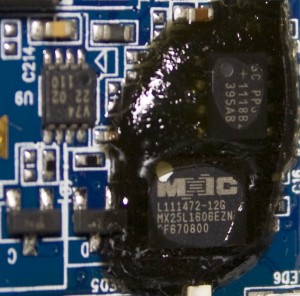 To remove both heatsinks I increased my soldering iron to 420C.
5. Headpad
Nothing under this one but a heat pad and some thermal paste which would be used to remove heat from the ADC/DAC and 3G transceiver. A bit strange that they didn't put the heatsink the on IC's themselves.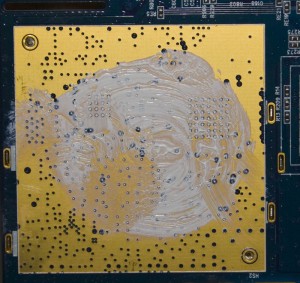 6. Mindspeed Picochip ARM Processor
The main processor is a Picochip PC302 and is a 3GPP 3G Home NodeB (HNB) modem, it has a 400MHz clock using the ARM11 architecture and supports up to 4 users on the 3G connection, PC302.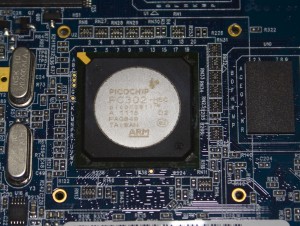 7. Realtek 10/100Mbit Fast Ethernet
The usual Realtek Ethernet adapter chip that almost in every device, RTL8306G.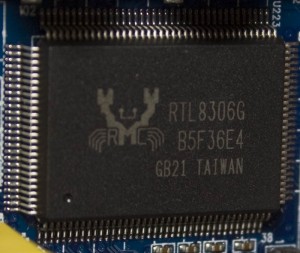 8. Hynix 2Gbit Nand Flash
HY27UF082G2B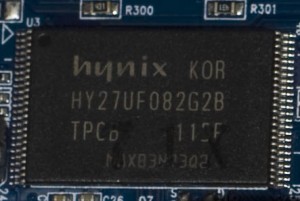 9. Hynix 512Mbit DDR2 SDRAM x 2
H5PS5162FFR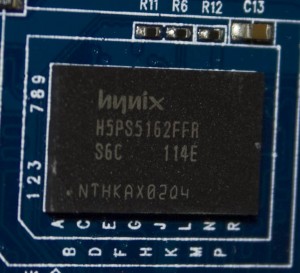 And that's all there is for this teardown.