Just a quick teardown today, we have the Kingston 60GB SSDNow300 SSD with model code SV300S37A/60G.
One problem with this SSD are the screws, they are the security torx screws which I didn't have any screwdrivers available for. Somehow using a small flathead I was able to break off the middle pin so I can now access it using it regular torx screwdriver.
We're in and there isn't a whole lot, just 8x NAND chips and the memory controller.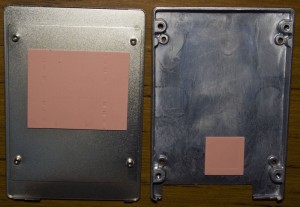 You can see they have thermal compound on the panels to take away some of the heat from the chips.
Kingston 8GB NAND Flash x 8
I couldn't find anything on these other than people suspect they are re-branded Toshiba chips.
FT64G08UCT1-8B
S1301-2525456
Kingston Sandforce Memory Controller
Once again nothing much on this one apart from it's a Sandforce chip.
CL138217
SANDFORCE
EHP45B34
1245