Today we'll be taking a look at Netgear Wireless Cable Voice Gateway (CG3000-1STAUS) which has 4x 10/100/1000 ports, a USB port, 2x voice ports and a cable coax port. It's one of the few routers that I've teared down which has gigabit network ports and the USB functionality isn't available according to the sticker placed on top of it so a future firmware may enable it, I guess they had to rush these units out. I've changed the teardown format a little bit so it flows a bit better.
Six torque screws later and we're in.
There a few things that stand out from the usual routers I've seen, first is the pretty big heatsink on the main chip, we also have a RF can for the cable input and a temperature sensor cable going to the back of the main chip, must get pretty hot. PCB date code is 17th week of 2011.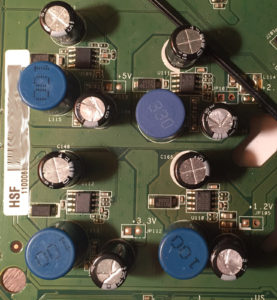 There are 4 DC-DC converters (3x MP2807DN, 1x 71981A/LAB8103) and the inductors look strange, they are in a plastic type package and for the DC-DCs they do have the silkscreen showing the different voltages so that's nice. Capacitors are a mix of Nichicon and Rubycon for the DC-DCs but they have Lelon ones for the voice lines.
The main chip is a Broadcom BCM3380 which can deliver 320Mbps downstream and 160Mbps upstream, it has support for DDR2 memory, 2x USB 2.0, 2x Gigabit Ethernet, PCI-Express, VoIP and SIM cards. There is a 16 pin and 4 pin header nearby and the Broadcom is running on a 48MHz crystal. We have a Samsung 512Mb DDR2 SDRAM (K4T51163QI) nearby.
The Gigabit Ethernet is handled by the Broadcom BCM53115S which supports 5x Gigabit PHYs with VLAN and QoS support, running on a 25MHz crystal.There is a NXP Hex inverter with schmitt trigger (74HC14D) and a Spansion 64Mb SPI Flash (S25FL064P).
For the voice side, they have two transformers, an 74AHCT08D (Quad 2-input AND gate), two N Mosfets on the bottom, two SCT500D PTC thermistors and an MicroSemi LE9530 chip doing the rest which supports both voice channels.
We have a mini-PCIexpress Wifi card which is screwed down and they have 2 screw holes a few cm to the right to allow for a larger Wifi card, screws have blue threadlocker on them and there is a little heatpad on the bottom. There are 2 antennas, one soldered to the board glued down a bit and the other stuck on the bottom case.
The card's chip is a Broadcom BCM43225 which supports 802.11n and is running on a 20MHz crystal.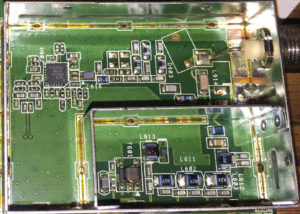 Under the RF can for the cable connection, we have 2 shielded sections with the usual special RF components and the chip reads KML610 TS1114.
And that's all.