A quick one today, we'll be looking at the Telstra NextG Turbo USB Modem (USB3-8521) which is a USB modem using the NextG network to have Internet on the go. It has a slide where the SIM card goes and you can connect an external antenna.
Four screws later and we're in.
The USB connector is just attached via the 4 twisted wires which seems like it would hold up to some movement. We have 2 different Mobinus branded PCB antennas, the 2 white RF output transistors nearby and there is an external antenna connector on the bottom for the other antenna. There is a guard trace around all the RTR and RFR chips but no need for a RF can it seems. This board is a complete Qualcomm solution board (apart from the memory).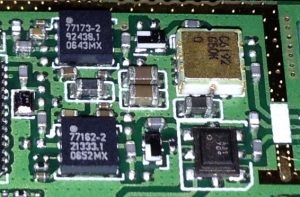 There are two small chips next to the RTR chip, then there are 2 small SOT23 (or smaller) 4 pin looking devices, then a ceramic package which is likely to be gold plated and another custom package next to it.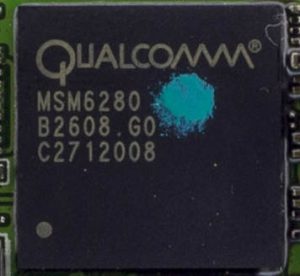 We've got the main chip, the Qualcomm MSM6280 SoC which supports 3G (7.2 Mbps UTMS HSDPA) & 2G (GSM, GPRS, EDGE), it's running an 270 MHz ARM926EJ-S, 2x QDSP4000 DSP cores, SRAM/NAND memory support plus other features like a 2D/3D graphics, video/audio decoders/outputs, assisted GPS, SD/USB/Keypad support to name a few, looks like this chip is really for mobile phones.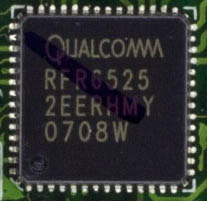 Next up is the Qualcomm RFR6525, a dual-band CDMA RF receiver which supports all GSM frequencies and most except 2 UMTS frequencies, its also where a GPS antenna can connect to (not present in our device) and also can have receive diversity.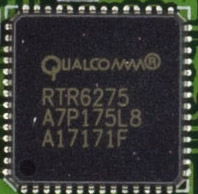 We then have the Qualcomm RTR6275, a dual-mode UMTS/HSDPA and GSM RF transmitter and this transmitter supports all the GSM frequencies and one frequency of UTMS.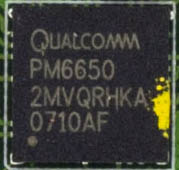 To power everything, we have the Qualcomm PM6650 power management chip which includes battery management, speaker driver, SMPS for the power amp / backlight, linear regulator for USB, SD card and a little bit of controllable IO. We can see there are a fair few capacitors near by and some tiny inductors too.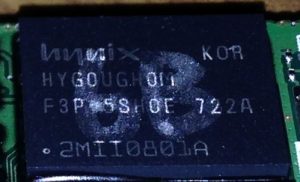 Lastly we have the memory, a Hynix HYG0UGH0M, but unsure of the size.
And that's all.