Today we'll be looking at the Netgear Wireless Cable Modem Gateway CG814WG v2 which is a cable modem/router with 4x 10/100 network ports, 1 USB port and 802.11b/g Wifi.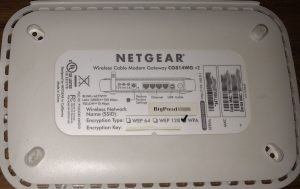 Four screws later and we're in
We've got a 2 chip solution with only a heatsink needed for the Ethernet chip and the usual Mini PCI wifi card (which seems to be common for devices of this time). Only 1 DC-DC converter on board with a large 22uH inductor plus there are some noticeable 6.8uH inductors sprinkled around too, the caps are branded OST / TEAPO. We also have some 4×2 pin and 4 pin male header near the main chip. The PCB date code is 14th week, 2009.
Looks like the RF shield for the cable front end doesn't need to be covered and has some large cut outs the bottom so I guess there isn't too much noise about.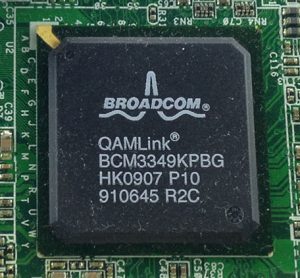 For the main chip we have a Broadcom BCM3349 which features a 200MHz MIPS32 CPU, 16bit 100MHz SDRAM interface, 10/100 Ethernet transceiver, USB 2.0 controller/transceiver, 11bit ADC 1024QAM demodulator plus a 256QAM modulator. The chip they show as the cable tuner is the BCM3419. Running with a 24MHz crystal.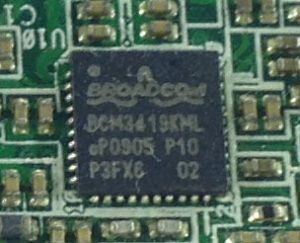 Next we'll check the cable tuner which indeed is a Broadcom BCM3419 which supports a band of 50 to 860 MHz and is a single chip solution. Running with a 16MHz crystal.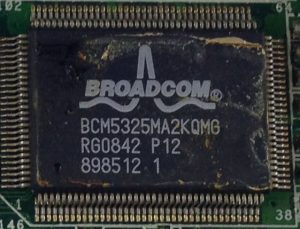 Underneath the heatsink we have the Broadcom BCM5325, a 5 port 10/100 Ethernet switch with transceivers, QoS, VLAN and 128KB packet buffer. Running with a 25MHz crystal.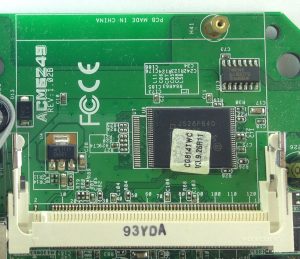 We have a EtronTech 128Mbit SDRAM (EM639165) and an Intel 64Mbit Flash (JS28F640) which was underneath the Wifi card along with a 74HC14D hex buffer for the front LEDs.
The Mini PCI wifi card is an Asus WL-120G V2AR1.01 which has 2 Hirose U.FL connectors, one is labelled "Main" which is where the antenna was connected to. There is a PCB antenna inline with the 2nd U.FL connector and there is a capacitor to select whether the PCB antenna or U.FL connector is used. We have an AME AME8816 LDO and a Holtek HT93LC46 1Kbit 3-Wire Serial EEPROM.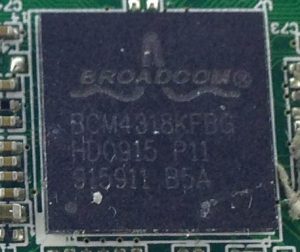 The main chip is a Broadcom BCM4318, a 802.11g MAC/Baseband/Radio which supports WEP/WEP2 and 128-bit AES, has multiple interface support, can support 802.11a with an external conversion radio and has a high-speed performance mode of 125 Mbps (802.11g is normally 54Mbps max). Running with a 20MHz crystal.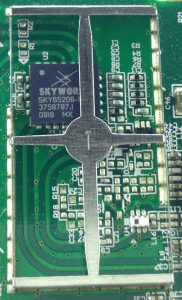 Underneath the RF shield we have a Skyworks SKY65206 Front-end chip with dual antennas, a 2.4-2.5 GHz operating range and gain of 16dBm on 802.11g and 20dBm on 802.11b.
And that's all.