I've now gotten a feel for the LED Matrix and have made a Road Runner game for it too, similar to the LCD Road Runner except you don't have enemies and don't shoot. I've optimised the way levels are stored better than LCD Road Runner so we don't have to use PROMEM any more. The main highlight is that you can make your own level very easily which I'll show you how to do near the end of this post.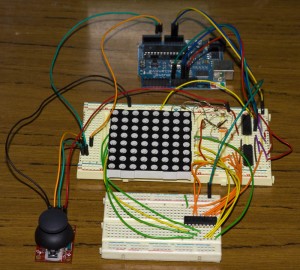 LED Matrix Road Runner
v1.0 (10 December 2010) – Initial Release with 1 level
Instructions
You control the dot and you need to avoid the walls, you can move in all directions.
Components

8×8 LED Matrix – http://www.sparkfun.com/products/681
Thumb Joystick + Breakout Board – http://www.sparkfun.com/products/9032 + http://www.sparkfun.com/products/9110
2 x 74HC595 Shift Registers – http://www.sparkfun.com/products/733
1 x ULN2083A Darlington Array – http://www.sparkfun.com/products/312
8 x 220 Ohm Resistors
Arduino Duemilanove or Uno – http://www.sparkfun.com/products/9950
Schematic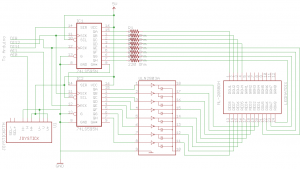 How it works
We are using 2 shift registers along with a darlington array to control the LED Matrix rows (Shift Register plus darlington array) and columns (Shift register). By lighting the LED matrix one row at a time, pausing for 2 milliseconds and doing the next row, we are able to light up all of the LED matrix without suffering any LEDs blinking like you might expect to see.
We have a 8 (y) x 16 (x) array to store the which lights are on and which lights are going to be on in the next 8 increments. Basically we paste in 8×8 LED data to the far right of the array and our counter increments which moves the 8×8 LED data to the left by one which gives the effect of the player moving forward.
The joystick controls the players X and Y co-ordinates and maps it to the first 8×8 section of the 8×16 array. Collision detection is calculated by checking if the players co-ordinates matches where the light is going to move.
The levels are packed into a array of bytes to save memory. Each byte represents one row of LEDs because each byte has 8 bits (1 bit for each column of that row), thus we can have 8 bytes and that would allow us to light the whole LED matrix. We use the bit function AND to calculate which LEDs should be on, then map it to a temporary array and copy that across to the 8×16 array.
Make your own levels
Download this utilities and example pack for Windows: led_matrix_level_pack.zip
1. Load FastLCD.exe, set the grid size height to 8. You can leave the width as it is or make it shorter or longer (careful not to make it too long). Draw the walls by using the left mouse button and clearing any walls you don't want by pressing the right mouse button. In the example below we just drew numbers. Save the file as BMP.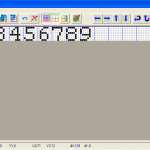 2. Load Bmp2asm.exe, select your BMP file, uncheck "0x Use prefix", click Convert and then highlight and copy the text outputted at the bottom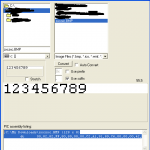 3. Go to my InsideGadgets ASM to Array Converter page, paste in the output text and click convert. Copy the output text.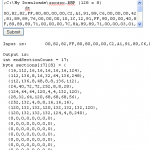 4. Replace the two variables in the section that says "Change the only the 2 variables below" with the text you copied before.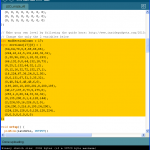 5. Compile, upload and you're done.