Today we'll be taking a quick look at the Netgear 8 Port 10/100Mbps Fast Ethernet Switch Switch (FS608 v2) which has a date code of 2005/42nd week.
Two torx screws later and we're in.
As we've seen before these old switches use similar parts to one another. We've got our AP34063 SMPS and a LD1117 voltage regulator both of which we found on a Netcomm NB6 Router we looked at a little while ago. The inductors legs a quite thin and it's very easy to move around which isn't the best.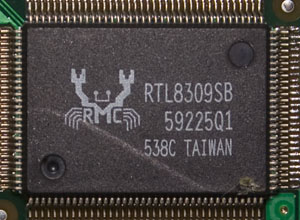 Under the heatsink we've got the Realtek RTL309SB – a 9 Port 10/100 switch controller running off a 25MHz crystal, it's at least a bit different than the IC+ chips we normally see in other switches.
And that's all.