Today we'll be taking a look at the Netcomm NB6Plus4Wn ADSL2+ Wifi Router which is similar to the Netcomm NB6 Rev2 ADSL2+ we looked at previously except that this one has 802.11n Wifi and 4 LAN ports.
4 screw later and we're in.
We've got a 3 chip solution, the main chip, LAN controller and Wifi controller which is using a discrete front ends for both antennas that look to have a balun in them. There's a 5 pin header with only 4 pins soldered going to the main chip. Looks like there is also possibility for populating a USB header near the phone line port. PCB date code is 42nd week of 2011.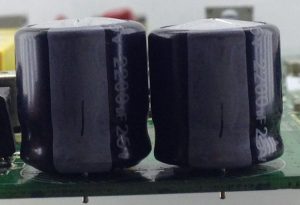 Something that stands out is the 2x Lelon 25V 2200uF caps which are swelling. We have a little bit of glue being used on the 2 inductors for the DC-DC's as well as the one of the red caps to the line transformer.
For the power side, we have a CM3406DS & BH996 DC-DC converters plus an LD1117A adjustable LDO with a decent sized pad for heat dissipation and an UTC LM7805L for 5V.  There is also a spot near the LM7805 where they could have populated another DC-DC.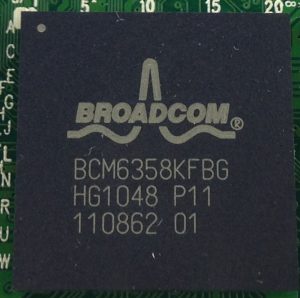 The main chip is a Broadcom BCM6358 which is an ADSL2+ transceiver (up to 29Mb down / 3 Mb up) with an MIPS32 CPU and offers 2x 10/100 Ethernet, 2x USB 2.0 hosts / USB 1.1 device, CardBus, PCMCIA, and mini-PCI. Running with a 64MHz crystal.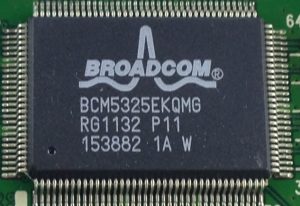 For the Ethernet chip we have the Broadcom BCM5325, a 5 port 10/100 Ethernet switch with transceivers. Running with a 25MHz crystal.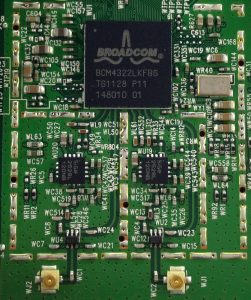 The Wifi is handled by Broadcom BCM4322, a 2×2 802.11n all-in-one Baseband/MAC/Radio with two transmitters and two receivers supporting up to 300 Mbps. There are two identical front ends with their chips labelled "SiGe 2528L 120N8". Looks like no RF shield is required. Running with a 20MHz crystal.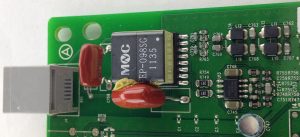 The line driver is once again another Broadcom chip, labelled as 6301KSG. We have the usual gas discharge tube (hiding behind the cap) and the transformer.
For the memory we have a Hynix 256Mbit DDR SDRAM (H5DU2562GTR) and for the firmware storage we have the Spanion 32Mbit Flash (S29GL032N90).
And that's all.