In the last part, we looked at 3 DC-DC step down converters, tested their quiescent current and efficiency but none really stood out in both aspects. Near the end, we came up with a solution to which keeps the DC-DC in shutdown and only enables it when the GBA power switch is flicked on. In this part, we'll continue to test this solution, look at how to detect low battery, order some boards and check the performance.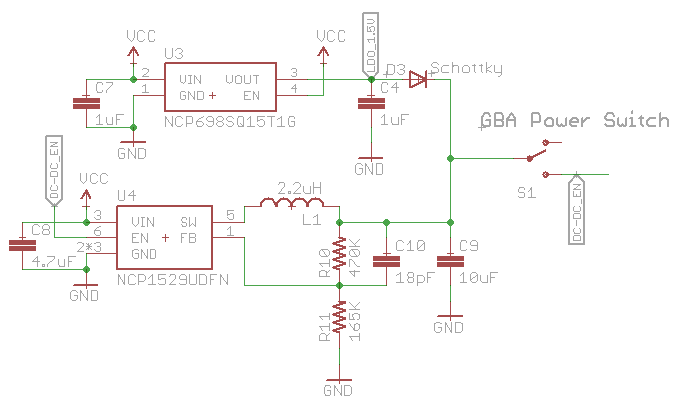 Here's a schematic to show how the solution works, you can see the LDO's output goes through the diode and is tied to the DC-DC output. The DC-DC enable pin is tied to the other side of the switch and would normally be off. Once the switch is flicked, the LDO output voltage reaches the DC-DC enable pin and switches the DC-DC on.
Previously I was using a 1.8V LDO I had laying around for testing so I ordered an ultra low quiescent current LDO, the NCP698 which has a quiescent current of 6uA maximum. The 1.8V version was 20c more expensive than the 1.5V variant so I went with the 1.5V one instead as it should still work fine. We don't want to have too high of a voltage, otherwise the LDO would be powering the GBA instead of the DC-DC.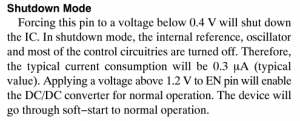 When testing it out, it looked like the output after the diode was 1.33V when the GBA was trying to turn on but the DC-DC wouldn't turn on, even though the datasheet said the voltage above 1.2V should be enough. I hooked up the LDO voltage to the enable pin directly and it did switch on fine.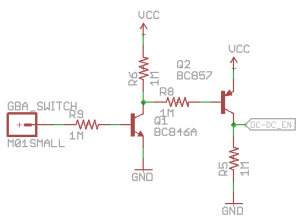 Potentially this could have also happened with the 1.8V variant as well so I wanted to find a way to switch the enable pin to VCC instead of the LDO's output. After a bit of testing, we can use a NPN with a PNP for our solution, resistors are high value ones so that current consumption is kept low but it only draws current (12uA) when the GBA is on. By default, the NPN is off so the PNP is also off and thus the output is 0. Once the power is flicked on, all we need is at least 0.7V on the NPN so it switches on, the PNP base will then be close to 0V and that will switch on, which means VCC will reach the DC-DC enable pin.