Today we'll be taking a look at the Cisco DPQ3925-X Cable Modem / Gateway which is a cable modem with 4x Gigabit Ethernet ports, 802.11n Wifi, USB port and 2 analog phone ports.
4 screws later and we're in.
Looks like we have a 2 chip solution, one of them has a pretty large heatsink. There is a Mini-PCI Express Wifi adapter with dual antennas. There is an RF can for the cable input and some conductive tape connecting it to the ethernet ports which is a little odd as the ethernet shielding is grounded. We also have tape near the main processor going to the memory and another small piece right next to the Mini PCI Express connector, strange. PCB date code is 37th week of 2014.

The main heatsink isn't soldered down, instead the legs are bent so it can't go anywhere.

Something else that stands out is that we have a 25MHz crystal which the case was soldered to ground.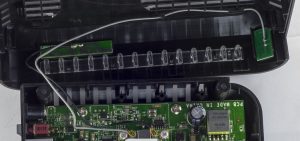 The 2 Wifi antennas are located in the front of case.